When a seller is engrossed in the details of a house sale, it's easy to forget the flooring. Yet, let's admit that floors are crucially important. Buyers will avoid houses with terrible floors, just as they will avoid houses that have a bad odor or poor visual attractiveness. So follow our tips on how various types of flooring can boost value to a property than others and what type of renovating you truly need.
1. Fixing Wood Floor 
Fixing and enhancing your wood floor is a definite game-changer because if they are in poor condition, they will affect the asking value. Extremely damaged floor sections should be replaced with new parts. The main aim is to nail the substitutes to the flooring, fill in the breaks, scuff any surfaces to completely refurbish. If you're unable to do this, contact a flooring specialist as the most challenging element is to have the newer pieces match the older ones. Bear in mind that mixing both old and new parts can take more time than the actual repairing process. 
If at all feasible, choose replacement floors in the same size and color as your current floors. In case you can't locate a perfect match and simply need one or two tiny replacement parts, consider taking them out of a hidden location on your current floor. Then you can patch up the area with fresh material, but the replacement might not match the area very well. In some situations, replacing full boards is the most convenient option. If a board is completely broken, it is better to replace it. If you need to replace more than one board, try to alternate the end hinges together.
2. Laminate-Style Flooring 
Consider adding laminate floors as they have several features that improve their value to prospective homeowners. As Sydney's laminate flooring experts suggest, laminate floors are very resilient and scratch-resistant and do not need much extra care than normal cleaning. Furthermore, laminate is smudge resistant, and the color is fade-proof, so it will keep its attractiveness even in high-traffic areas. Laminate flooring is also less expensive than hardwood flooring, so house-sellers who want to increase the aesthetic look of their home can do such without making a large financial commitment.
Moreover, when it comes to laminate construction, an image layer is updated on all laminated floors and incorporates a digitally improved photograph of natural elements, which imitates everything from tropical hardwood prints to granite to genuine stone. This makes it really easy for any decor idea or plans to be complimented. It comes in many colors and size variations and can even be texturally embossed in to make the floor more realistic.
On the other hand, some home reviewers are convinced that laminates cannot be regarded as the same as the natural beauty of genuine wood stone regardless of their supreme quality. However, given the advances in technology in laminate flooring, the added layer just gives a finished look but cannot be sanded or polished once it gets old. Although the pricing for laminate is convenient, remember that wood might be a better deal for the long-term purpose. 
3. Kitchen Floor Painting
The kitchen floor is made for more than wiping and painting. It can give your kitchen space a fresher look. Flooring a kitchen is an important part of the overall design of a house and is one of the areas that are most likely to either sell your house or stall the sale. There are many alternatives, but if you are re-doing your floor to sell your home, it is best to choose a style and type of flooring which will blend into most decor schemes. Painting a flat floor is one option, and a fresh coat of paint is very presentable, giving your kitchen a clean and neat ambiance. Choose a floor enamel such as a latex-based enamel patio paint. Many stores can sell samples, so you are able to try out a color before you decide on what you are going to put down.
To start the process on good feet, measure the dimensions of your kitchen to determine how much material you'll need to buy with your selected style in mind. To guarantee your figures are precise, measure numerous times, as any knowledgeable carpenter will do. It's a good idea to get a little extra in case you break any or cut one to the wrong size throughout the remodeling. Because most kitchens are not designed in a square shape, you should have some additional flooring at all times in case you need to make any unusual cuts.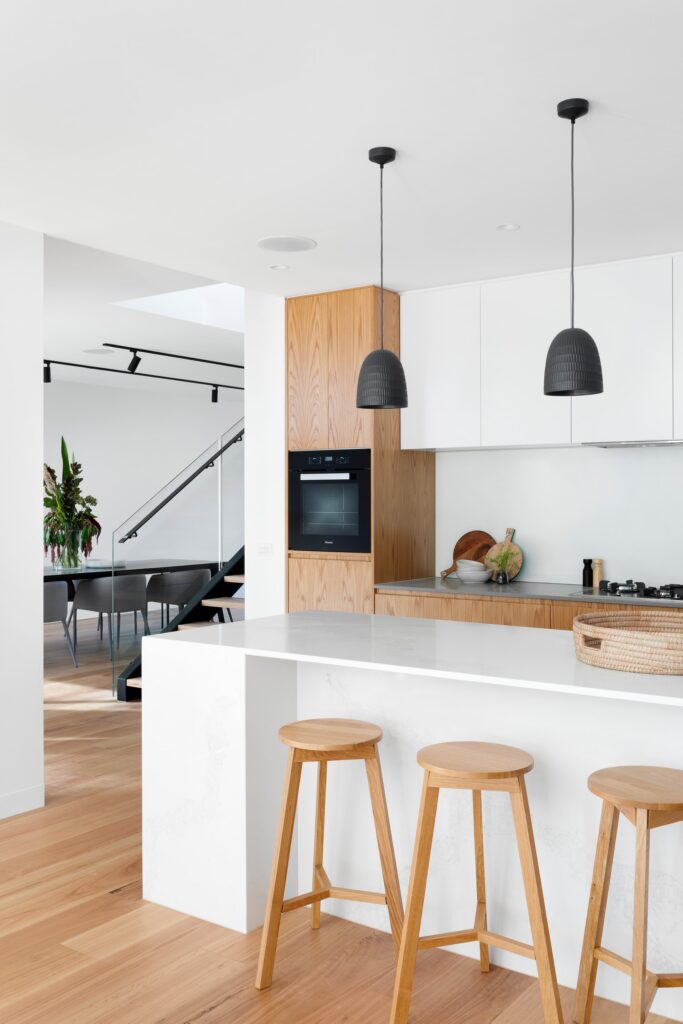 To summarize, bear in mind that hardwood flooring remains one of the best flooring alternatives. Using hardwood in your kitchen can give you the room to ask as much as sixty percent more on your selling price. You may select from a variety of various wood floors. Using hardwood is a great selling point, especially when you combine it with the heating system. It has been said a kitchen sells a house, so take all these tips into consideration when putting your property on the market.
Featured Photo by Collov Home Design on Unsplash