What are the advantages of elderly home care?
The older population keeps on escalating, and there's an increasing need for caregiver services. In most cases, new moms have to accomplish the task while caring for their little ones at home. This is never easy, as a new mom, you need a lot of rest, and an additional elderly person to care for can leave you stressed and fatigued. 
Nonetheless, you can transform the entire experience into a fun activity. How is this possible? Installing senior daycare software is a perfect example; it will help you to save time and offer better services. What's more? Digitized care will enhance efficiency and make it easier to monitor your loved one. 
Taking care of the elderly at home is a viable option that comes with many perks. It gives the older person a sense of independence and freedom, and they are free to do whatever pleases them. Home care doesn't entail monotonous routines like fixed mealtimes, baths, and sleep time. A senior person can welcome visitors at any time, and this is critical. However, if they prefer to live like this, LSS assisted living is opening their door for you!
No older person wants to be confined, and having friends within reach is a plus. Giving care at home makes it easier to make adjustments to the person's diet and offer what best matches their needs. It also helps avoid the stress associated with moving to a new environment. With home care, the older person can keep their treasured processions close, which may offer priceless memories and happiness. 
How can you best care for the elderly while you're a new
mom?
1. The bedroom matters!
How you set the bedroom defines how well your senior person sleeps at night. Remember, you need adequate sleep, and you can only achieve this if there are no disruptions at night. Ensure that your loved one's bedroom is safe and use bed rails, and this will help them to get out of bed safely. If you have the means, you can invest in hospital beds for your home that comes with safety rails. This will not only keep your senior person safe but very comfortable as well.
Acquire a few pairs of non-slip socks for your senior; they will offer ample stability when getting out of bed. You'll get these items from sties that stock products for seniors, either online or in your local shop. Moreover, fix motion-activated lights in the bedroom, and this will make it easier to light up once out of bed. 
2. Plan for incontinence needs
Most seniors have to deal with incontinence, and you should manage this well. You should minimize waking up at night, and it's essential to offer extra super-absorbent diapers that your loved one can use throughout the night. These will limit leakage or accidents at night. Stock all the incontinence products and keep them within reach, making it easier for the senior person to access them without having to wake you up for help. 
3. Light the hallway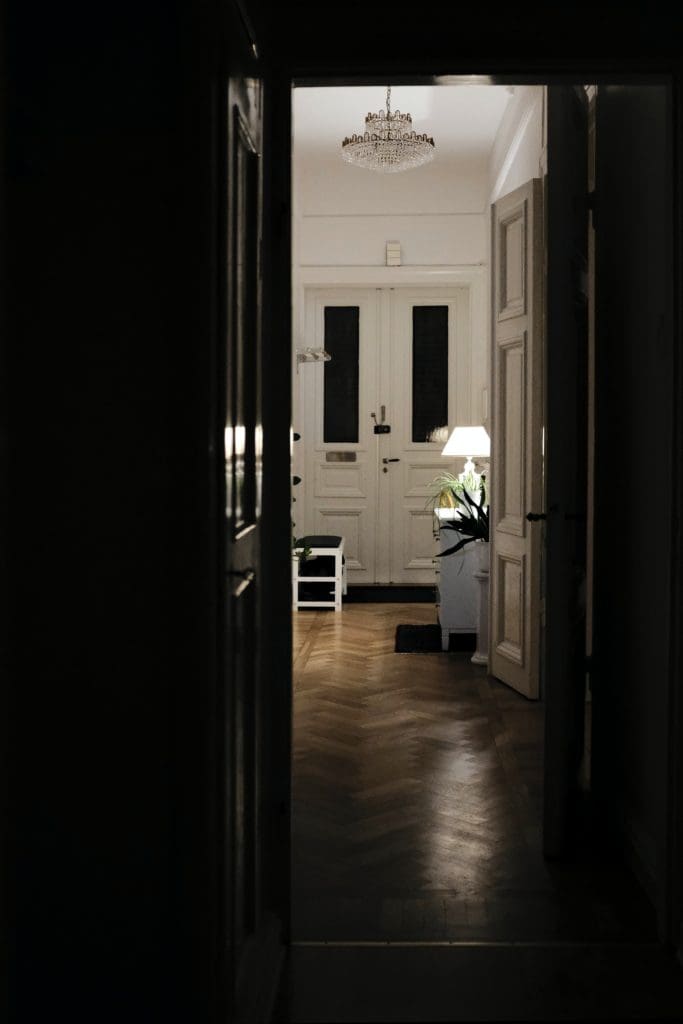 You shouldn't only use sensor lights for the bedroom; the hallway is also crucial. Fix them up to the bathroom, and they will help avoid accidents resulting from slips and falls. When they want to get up, the lights will afford access, and the older person won't need you to assist them. These lights are inexpensive and easy to install. If you don't plan to upgrade your lighting fixtures, ensure that the older person can switch on the existing lights with ease. 
4. Plan for emergency help
Although you may be there to care for the older adult, caring for the baby will be demanding and will leave you fatigued. Make it possible for the senior person to get help at night. You can do this in various ways. Pre-program the phone with all the emergency contacts or fix a home monitoring system. It enables the older person to seek emergency help with a single button push. To ascertain whether they require extra support at night, consider installing video cameras in their bedroom. 
5. Heat up!
Older people require additional heat at night. However, caring for a baby isn't easy, and you need enough time to rest. Besides, you don't want to keep waking p to check on the baby and your senior person. Provide additional blankets, water bottles, and any other heating appliance. If you acquire an electrical device to help heat the room, place it away from the bed to avert accidents. 
6. Encourage socialization
Socialization allows seniors to share ideas with others. It's essential for their emotional and mental health, and will also help lift their mood. Encourage the senior person to interact with different people from all age groups, and create the opportunity for them to participate in community pursuits.  
They will help ease loneliness, which can easily cause emotional distress among seniors. When the senior person is busy talking to others, you'll also get ample time to attend to your baby. Take advantage of this time to do laundry, cook, or even go shopping. 
7. Involve other family members
 Talk to other family members about the care that the older person requires, and try to get them involved in offering care. The more you get others involved, the more time you'll have to care for your baby and also handle other essential tasks in the home. 
For instance, your siblings can come over the weekend and help with cleaning, cooking, or going shopping. Sharing responsibilities with other family members will ease the burden, making it more comfortable to care for both the baby and the older person. 
8. Hire caregiver services
Even with family members and friends to help you care for the senior person, you won't be home all the time, and you don't want to leave your loved one unattended. The services of a caregiver come in handy in such circumstances. They will help with most of the tasks and will ease the workload. As a result, you'll have more time for yourself and the baby as well.  
 Where can I get the best caregiver? Many firms specialize in offering care for the elderly, and you can always get the most suitable helper. But, do a lot of research, older people are delicate, and you want to get exceptional services. Examples of renowned senior care providers are Visiting Angels, Caregiver Needed, Right at Home, and many others. 
9. Re-consider your insurance options
There are different insurance plans, but not all are suitable for your loved one. Remember, older persons are more susceptible to infections, some that are chronic. You don't want to take an insurance plan that doesn't cover some of the ailments. Making the wrong decisions concerning an insurance plan can be costly in the long run. Examine different options and go for a long-term one that best suits the older person. 
10. Embrace technology
Technology can significantly improve efficiency and save time in regard to caregiving services. Stay up to date with technological devices that you can utilize to offer more advanced care. Include monitoring systems for more coordinated care, which can help cut costs and enhance communication. 
11. Keep learning
Having the right information will help you offer better services to your loved ones. Search online, read books and magazines with tips on how to give the best care to the elderly. Moreover, stay abreast of the newest innovations in senior care as well as the best practices in long-term elderly care. 
The bottom line 
Motherhood comes with many responsibilities, and having to care for an older person can be hectic. However, there are numerous ways to care for your loved one without feeling burdened. Caring for the elderly can be fun, only if you know how to do this best. Consider the above ideas, and you'll realize that it isn't stressful as many new moms think.
Featured Photo by Pixabay from Pexels