Social media today, and Instagram, in particular, are a part of the daily routine for many people. Sometimes we don't even think as we open the app and start scrolling the feed. And the riddle that lots of bloggers try to solve is how to draw the user's attention to their profiles. They develop different strategies and involve paid services, starting from 50 Instagram followers to the budget's edge. But these efforts can be useless if one doesn't understand how the laws of catching human attention work and how people actually perceive the information they see online and in real life. 
To achieve success on platforms like Instagram, you will have to know the biological and psychological sides of human perception. Luckily, you won't have to dig into the library material because this article has gathered the most important statements about it. You will also read techniques that will help to wield the knowledge that you will get from this text and make your Instagram content useful to your audience.
Shopping Behavior
By now, studies prove that Instagram for many users is something similar to the massive fair. Bright colors and a huge variety of items are really bringing up the feeling that you are walking through a big marketplace. Due to the algorithms of Instagram and marketing strategies applied by brands, the feeling is increased. 
At the same time, for users, choosing items, and deciding to purchase them is easier. No obtrusive consultants, no need to walk up to the store, and in most brand profiles, the product will be shown from different sides and quite accurately – all that provides an additional feeling of comfort. Some people love shopping, and some hate it, but both categories find online stores quite useful. 
Why does that happen? 
The brands on Instagram don't sell just an item. They sell the whole idea for living, the mood board that includes the product offered to buyers. The visual format of Instagram is perfectly suitable for this purpose, as it gives many opportunities to showcase the product at its best features. The reports show that any brand's Instagram page is a great help in the buyer's journey. 
The Visual Attraction
From all the channels of perception, humans rely on visual data the most. Our brains are very sensitive to colors and forms. This is why Instagram is such a popular social platform. Its whole concept is built on sharing pictures and videos. Nowadays, still-life photography gets a new spiral of popularity as brands have entered the platform. For nonprofits, this network, along with the fast progress of smartphone cameras, is now an opportunity to share their impressions and experience. Here are a few tips for creating compelling visual content for Instagram:
Use a smart color scheme – generally mild colors with bright accents. Try to stick to a similar choice of colors in your account. So users can easily notice and recognize your content in the feed.

Learn the rule of thirds and use it for good. It is the method of building the composition, where you try to place the accents according to the guidelines that divide the picture into nine equal pieces.

Play on contrasts. Human vision is trained to follow the most vivid objects.

Avoid total symmetry. Although humans like perfect forms, the absolute symmetry in the photo may look awkward for users. Always put some chaos into your composition, to breathe in some life to it. This rule is not strict, and sometimes symmetry works well, but it highly depends on the type of product and overall composition.
The Stories And Feed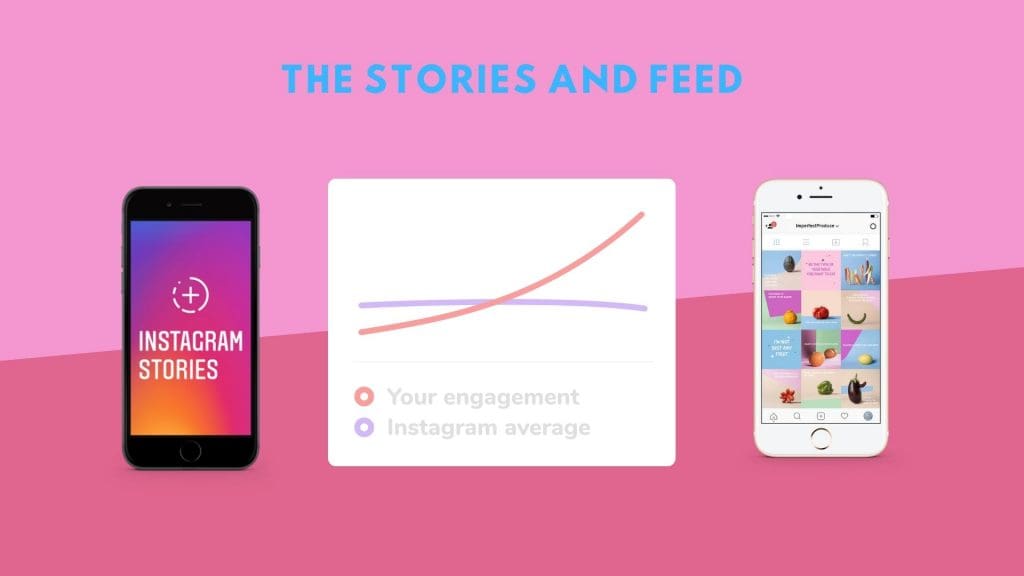 The way viewers perceive the main formats of Instagram is different. Facebook team has completed their research in four regions – Brazil, United Kingdom, Indonesia, and the United States. In general, it proved that stories have a positive impact on users from all the mentioned countries. They claim that the content in the format of stories and lives is more authentic, enhancing their friends and family connection. 
At the same time, feed posts are perceived rather as a marketplace. Their basic information about the product can be posted making it easily accessible for new customers. Stories are also useful as a connector between the brand and its target audience. 
In Brazil, according to the data of this research, people associate Instagram with motivational and inspiring content, e.g., quotes, pictures, and videos.

The respondents from Britain are describing Instagram content as emotional.

Indonesian respondents are considering Instagram as a source of authentic content. 
As a result
Generally, individuals from all the countries have shown a preference for the format of stories. It allows them to see what their friends, family, or favorite influencers are doing in real-time. This way, the feeling of real-life presence and interaction is stronger. They also consider that the content that is posted in stories is less filtered and perfectioned. Instagram team has improved this thesis by changing its policy for the masks in stories. And this aspect is worth another paragraph for discussion. 
The Beauty Standards
In this thesis, we will look closer at the effect that Instagram has caused on self-esteem and matter of beauty. At some point, the filters that were applied to the stories have become too unrealistic and crooked. Popular bloggers applied to their faces similar filters, which has caused anxiety, especially amongst young women, that concerned their appearance. And that is when the memes about doppelgangers on Instagram became disturbing. To avoid scandals and accusations of intolerance, the authorities of Instagram have changed the filter policy. Masks and filters that changed the facial features too much or too unrealistic were banned from the platform. The feed posts that included such filters were partially covered. The authors were asked to put disclaimers for this matter. 
The problem of the too-perfect image is a long time concern of many psychologists
As bloggers tended to idealize their lives in the feed, their followers' mental health was discreetly hurt. Some people felt depressed if they could not reach the same level of life their favorite influencers had. This is another bonus to the story's format. It made the looks and lifestyle of many Instagram celebs more realistic, so viewers could associate with them. 
Instagram is also helping people to accept themselves. People with rare diseases, injuries, disorders, or specific features can now express their thoughts and looks freely. They can find support and care from their followers, which improves their self-esteem and helps them leave a pariah's status in the past. Body-positive communities are helping in this fight for society's mental health as they popularize unfiltered content and diversity of content makers. 
One of the recent examples demonstrating the power and influence of Instagram is the post of body-positive plus size Jamaican model Nyomi Nicholas-Williams. She has launched the hashtag #iwanttoseenyome, which had a goal to beat the belief that on Instagram, one will see only perfectly fit bodies of the S size. The popularity of this hashtag symbolizes that lots of people are not fatphobic or misogynists, as long as social media demonstrates human bodies' diversity. 
Conclusion
The way users perceive Instagram is a complex system. It is built on many factors that include psychological principles of human behavior. They come to the platform looking for fun, inspiration, and even education. And vivid Instagram images are perfectly capable of fitting all the criteria. Here are some universal tips for marketers and nonprofits to remember:
Create a compelling visual material that will be associated with you

Tell a story, so your images will always have a background that brings sense to the pics

Demonstrate healthy behavior, and don't get too carried away with filters for enhancing your pictures.