Having a good profile on LinkedIn is one of the important steps for anyone looking for opportunities and career growth. This is because it is a social network focused on professional contacts in which millions of people circulate. This is the right environment to find work.
But, despite the large flow, not all profiles are attractive. Many people don't know exactly how to use LinkedIn. They put in vague and incomplete information or miss opportunities because they sign up but don't update their data, make new connections, or interact with their contacts.
In addition to using the platform by candidates looking for job opportunities, companies and recruiters have increasingly joined the social network, using it as one of the main hiring tools in the current job market. Thus, creating an attractive and quality profile on LinkedIn is very important to increase professional visibility and employability.
The kind of profile you create can attract more employers. So, in addition to actively participating in the network, you must optimize your profile. You can create and optimize your profile or hire experts who specialize in writing a great linkedin profile. That said, here are tips for the best LinkedIn profile. 
1. Use strategic keywords
LinkedIn is a professional social network and people search platform. Not only are candidates looking for opportunities, but employers want to find interesting profiles. So, find out which terms attract the most attention from recruiters and put these keywords in your profile descriptions.
2. Be careful when choosing your profile picture
Profiles with photos attract more contacts than those who keep the personal image field in white or, rather, in gray. Ideally, your LinkedIn profile picture should convey professionalism and inspire trust and respect.
Remember that this is no ordinary social network: the goal is to show up for work contacts, not to get likes. Prefer a recent photo in which your face appears clearly and, of course, with good resolution. Oh, and it doesn't have to be overly serious and formal. A smile can always help, can't it?
3. Detail your professional experiences 
Talk about the activities you have developed in your previous experiences, especially those related to the area you intend to pursue. Jobs no longer related to your professional goals need not be detailed, perhaps not even mentioned.
You can also talk about volunteer work and other complementary activities that were part of your academic trajectory and professional preparation.
4. Place your training
Academic background is one of the most important pieces of information to put on your LinkedIn profile. After all, we know that the chances of getting an excellent professional placement are directly related to the candidate's qualifications.
Introduce your level of education, courses taken, and institutions attended. Of course, studying at an institution recognized for its quality of education is a great differential.
5. Mention your skills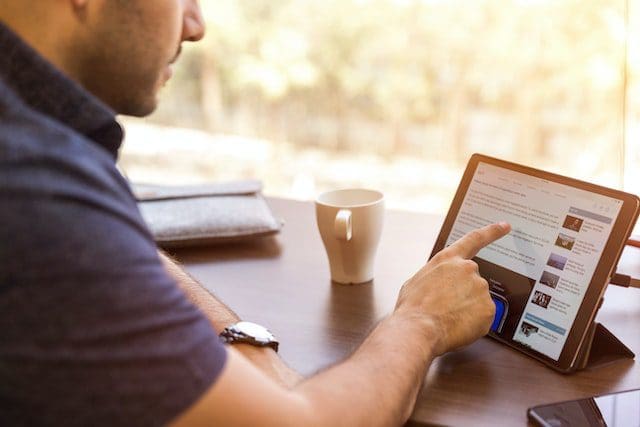 Don't leave the skills field blank. Take the opportunity to add information that can say a lot about your profile. Define your technical and extracurricular skills in this part, such as languages ​​and Excel.
In the "about" field, also put your personal skills, such as efficient communication, ease of interpersonal relationships, and other soft skills valued in the job market.
These five tips present the main strategies for building a good LinkedIn profile. They are information that cannot be missed. In addition to these, you can count on some hacks, tricks, or tactics to make your profile pop and increase your chances of being hired, such as:
customize your page;

publish articles or make interesting posts;

interact with your contacts — it's an excellent place to network;

comment and share content;

connect with influential people.
Featured Photo by Souvik Banerjee on Unsplash