I was so excited someone finally asked for my opinion on the Pawstruct treats. As a nine-year-old pit mix, not many people ask for it. At my age, my stomach isn't like it used to be. Not too long ago, my mom started making my dog food. I was happy because bagged dog food sucks. My mom even started making me peanut butter treats. I do love her for trying, but I miss rawhides. A dog can only eat so many homemade peanut butter treats. I thought it was just going to another day, but it was not. I had a few words(barks) with the delivery driver showing up. Mom gets the box and opens it; I knew it was for me. I know the sound of any bag with treats in them. Just like I know when they open any kind of cheese.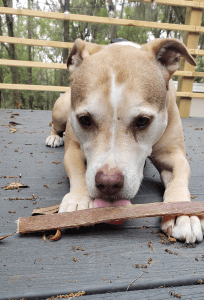 Pawstuck is an all-natural dog treat to make any dog learn new tricks. I could just imagine how good that warehouse smells. I wonder if they allow visitors. Even if your best friend lives that fancy lifestyle of eating plant-based products, Pawstuck has a vegetarian treat as well. My dad loves sweet potatoes; maybe he will like them too. Perhaps I'll order him some; if he doesn't like them, I will eat them. With so many shapes, sizes and flavors, it will make any dog happy. I know there must be a catch that mom is spoiling me. Maybe it is because she works from home, and I want to bark while she is on the phone. The braided bully sticks keep me busy while she is working. It's weird. I think it's cleaning the tartar build off my teeth, but not sure why my mom would do that to me. 
Here is a quick guide to help you find the perfect treat for my pals at Pawstruck
Beef Chews:

 Includes favorites such as cow hooves, bull horns, and bully sticks. Sourced from happy cows only.

Pork Chews — Features tasty options like pig ears, pig snouts, and braided pig pizzle.

Lamb Chews:

 Includes tasty options such as lamb ears. Mint jelly, anyone?

Animal Ears for Dogs:

 For dogs who want a variety pack of animal ears to nibble on.
Cow Hooves — Non-greasy, non-staining, extra-delicious and all-natural.
Naturally Shed Antlers — For dogs who want to feel like they just caught a wild animal all by themselves. Naturally shed antlers from wild elk for the conscious pet owner.

Stuffed & Filled Dog Chews:

 For dogs who crave a little something extra in their diet. Think filled dog chews like bacon, cheese, ham, and even peanut butter and jelly.

Beef Rawhide Chews for Dogs — A collection of long-lasting, tasty treats that features classics like braids and barbells and filled rawhide chews.

Bully Coated Dog Chews:

 Chews that are bully coated in the same deliciousness as our bully sticks. Mmm, beef.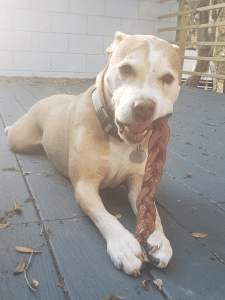 I give Pawstuck treats 5 out of 5 paw stars. The tastiness of the treats will have any dog's mouth drooling. They are by far the best natural dog treats for me, and I hope for your dog too. I was happy when they did not hurt my belly or gave me bad gas. I have to remind myself to keep barking at my mom when she is on the phone so she can order more for me.