The following post is from Shaina of Food for My Family and Olmanson Photography:
These mini pecan pie tarts are kissed with fresh rosemary and made with pure honey, for a fun little twist on this classic holiday treat.
I have a pecan pie lover in my house. He judges an entire holiday get-together on the basis of whether the pecan pie was 1) present and 2) lived up to his expectations (runny imposters need not apply). Seeing as how I married into this pecan-pie-or-die mentality, I knew I needed to perfect my personal pecan pie recipe early, and then improve upon it when I wanted to switch things up.
A perfect pecan pie in my husband's eyes is one that has a glistening top, a soft but set center, and a hefty helping of pecans, in a crisp pastry crust. There are very few ways he'll accept variations on this theme. If you've ever made pecan pie before, you'll know that it is generally made with corn syrup. Since it is a bit difficult to track down non-GMO corn syrup, I was bound and determined to improve this classic by using ingredients I could stand behind, which meant figuring out how to use honey to perfect my husband's favorite pie.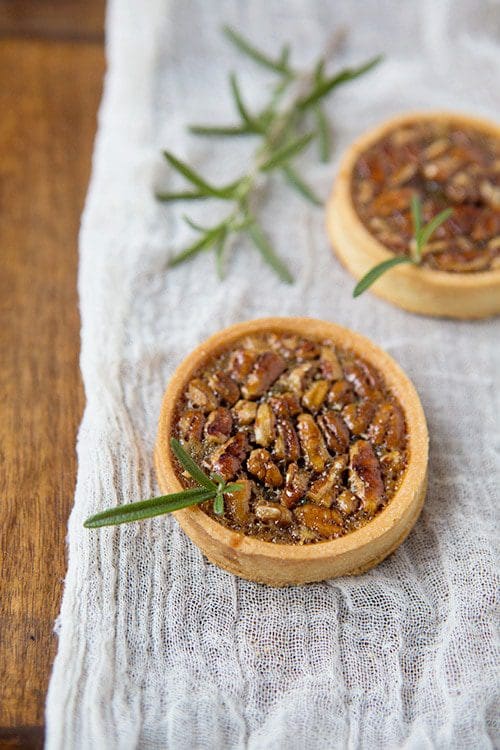 Honey when boiled will behave in much the same way as corn syrup. If you want to avoid an overly strong honey flavor, opt for a lighter variety or one that has a softer note. Orange blossom honey pairs nicely with the rosemary in this recipe.
Ingredients:
2 9″ pie crust dough
1 cup raw honey
2 tablespoons minced fresh rosemary
3 large eggs, beaten
3 tablespoons butter
1 teaspoon vanilla
½ teaspoon salt
1½ cups chopped pecans
Directions:
Preheat the oven to 325º F.
Roll out the pie crust dough and cut into rounds to fill 4″ tart pans. Line 10 4″ tart pans or flan rings with the dough, pressing lightly to set in place. Place the tart pans on a baking sheet and place in the refrigerator to keep cold while you make the filling.
To make the filling, heat the honey and rosemary over medium heat in a medium-sized saucepan. Continue cooking, stirring occasionally, until the honey boils.
Spoon two tablespoons of the honey into the eggs, pouring slowly while whisking to temper. Slowly whisk the tempered eggs into the saucepan with the honey.
Immediately add in the butter, vanilla, and the salt, stirring to incorporate. Stir in the pecans.
Spoon the mixture into the tart molds, dividing it evenly. Place the baking sheet with the tart molds into the oven and bake for 20-25 minutes or until the center of the pecan filling is set. Remove from the oven and allow to cool.
Garnish with fresh rosemary, if desired.
Related Projects:
Join us as we celebrate 101 Days of Christmas with new DIY projects, gift ideas, traditions and more every day from now through Christmas!
Shaina Olmanson is the freelance writer, photographer, and home cook behind Food for My Family. Cooking daily with and for her four kids and husband, Ole, drives her desire to inspire other families to do the same. Shaina is also the author of Desserts in Jars and contributes regularly to a variety of online sites and traditional print magazines.