Since the first discovery and cultivation in the 19th century, white rice has become a staple food for more than half of the world's current population. White rice is a great way to spice up any dish with proven health benefits and the added convenience of simplicity and versatility in recipes.
While white rice is a starch, it has been proven to stabilize blood sugar levels by pairing it with other foods, like vegetables. Athletes incorporate it into their daily meals as a great source of energy, easing and regulating their digestive system and aiding your heart's health. Rice is also a great way to achieve your body's daily calorie and nutrient intake, providing a range of essential nutrients you need, such as B vitamins, phosphorous, and magnesium, to build stronger bones and a healthier overall body. Be sure to consult your doctor with any food sensitivities or struggles you may have to ensure maximum benefit for your body. You should find the FDA-approved nutritional facts for that specific item on the back of any food item. The quantity of nutrients is listed, along with the percentage of their recommended daily value for the average person on a 2,000 calories-per-day plan. The FDA recommends the following amounts of each major category—
Carbohydrates = approximately 300 grams daily (~45-65% or 900- 1,300 of total daily calories).

Function or benefit = body's energy source; aids function and fuel of brain, kidney, heart, and central nervous system.

Examples: rice, bread, beans, potatoes, corn.

Protein = approximately 65 grams daily (~10%- 35% of total daily calories).

Function or benefit = build and maintain healthy muscle.

Examples: eggs, fish, seafood, poultry, lean meats.

Fat = approximately 20 % – 35% or 400 – 700 of total daily calories.

Function or benefit: the creation of fatty acids; aids the body's absorption of vitamin A, vitamin D, and vitamin E.

Examples: fish, nuts, low-fat dairy items, avocados, butter.
Jasmine white rice vs. white rice – Is there a difference?
All white rice is processed, meaning that the hard protective coating (otherwise known as the husk), outer layer (also known as the bran), and inner layers (also known as the germ) have been removed. It is considered an empty carbohydrate, but it is typically enhanced with nutrients such as iron, folic acid, niacin, thiamine, and other additional B vitamins in most countries, including the United States. These B vitamins aid your body in turning food into energy and create healthy cells within your body.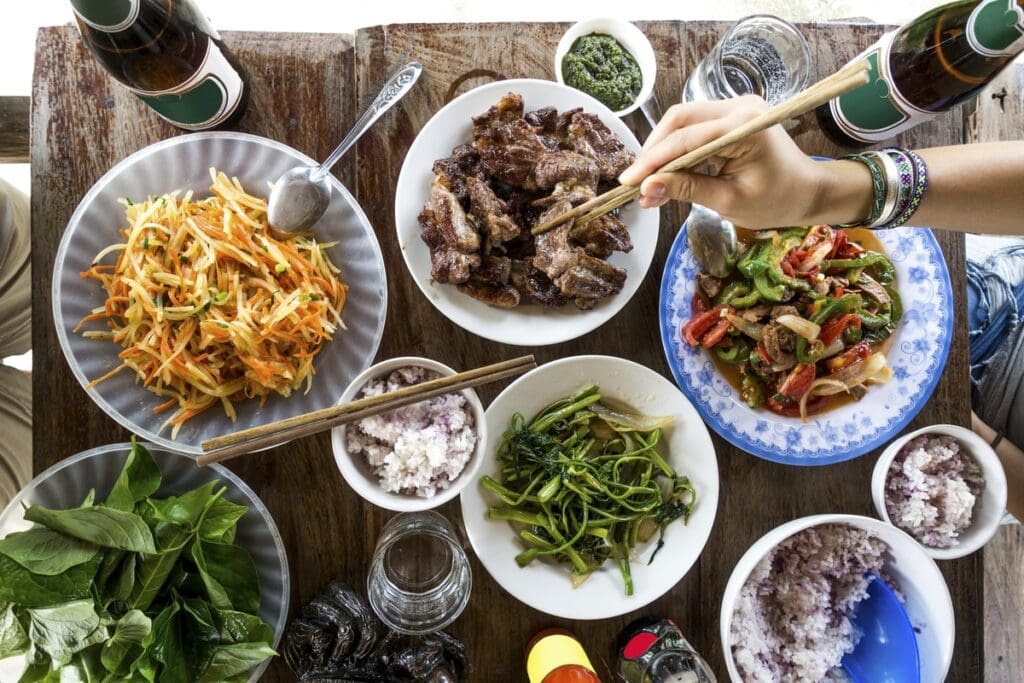 White rice:
Gluten-free.

It can be short, medium, or long grain.

When cooked, consistency can vary (very sticky to not at all).

It can only be white-colored.

Has little to no smell.
Jasmine White Rice:
Sub-type of white rice.

Gluten-free.

Only long grain.

Grown primarily in Southeast Asia.

When cooked, it is fluffy with a slightly sticky texture.

Comes in white, brown, red, black, and purple colors.

Has a slightly popcorn-like smell.
Overall, white rice and white jasmine rice are great options to include in your next prepared meal. While they are both gluten-free and therefore an excellent choice for people suffering from celiac disease or gluten sensitivity, jasmine white rice may be healthier for health-conscious individuals. This is due to the offerings of white jasmine rice in multiple colors, which may contain additional fiber, nutrients, and/or beneficial plant compounds not found in regular white rice.
How to cook:
Funnily enough, not everyone knows the correct way to cook rice. It may seem simple in theory, but it is very easy to overcook or not get the texture of rice you want for your dish. Mahatma, (https://mahatmarice.com/products/jasmine-white-rice/) America's Favorite Rice company, recommends a perfect ratio of 1 ½ cups of water per 1 cup of jasmine white rice. If you desire slightly drier rice, use ¼ cup less water, whereas for a moister texture, use ¼ cup more water per cup of rice. To cook on a stovetop, simply bring the water to a boil and slowly stir in the rice. If you'd rather make your rice in a microwave, the ratio of water to rice changes slightly to 1 ¾ cups water to 1 cup of rice. In a minimum of 2-quart sized bowl, add and mix the water and rice. Then cover and microwave on high for 5 minutes. Once done, reduce your microwave's power temporarily to 50% power, then microwave for an additional 10 minutes. Once fully cooked, let stand for 5 minutes before serving.
Pro tip: To bring your rice to another level, cook it in water or broth with seasonings and/or herbs. A teaspoon of chili oil, a squeeze of lemon juice, or two teaspoons of soy sauce and/or rice vinegar are simple, inexpensive ways to dress up your rice's flavor.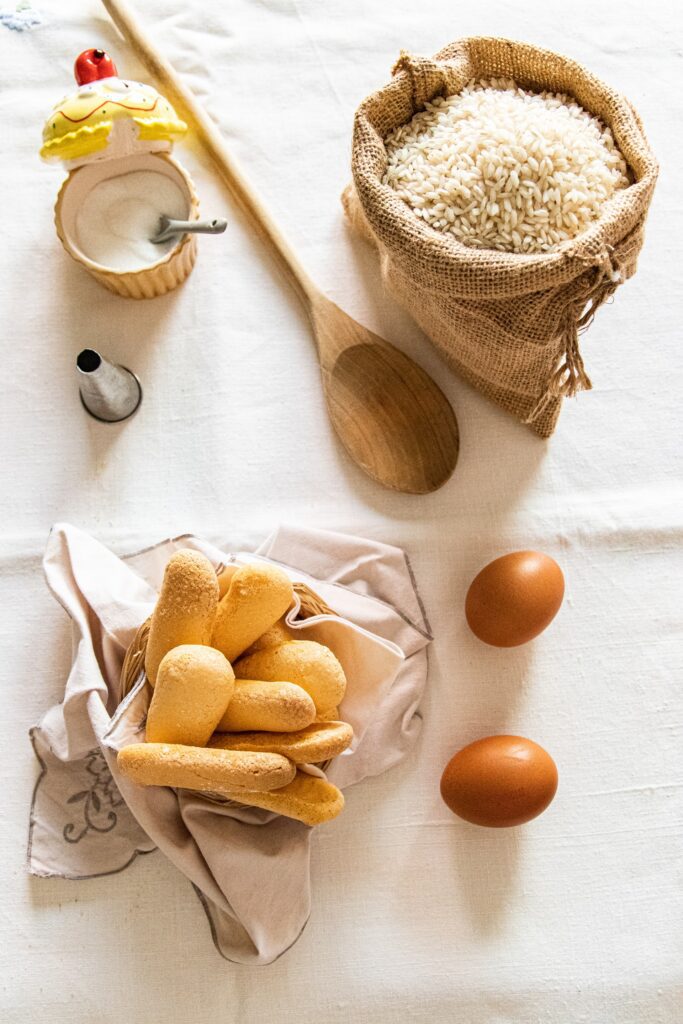 What to cook with Jasmine White Rice:
Due to its fluffy texture and great taste, white jasmine rice is typically used with any Asian food. It's especially popular in stir-fry dishes and slow-cooked foods. If you're stuck on ideas to try it with, here's a list of simple yet creative dishes incorporating your new favorite rice. There are many recipes on the internet, just type in one of the names below and you are sure to find many recipes to pick from:
Appetizers/Shareable/Sides:
Spicy Beef Chimichurri Rice Dip

: With flavors of olive oil, garlic, sour cream, peppers, and ground beef- this recipe can be used as a garnish or dip.

Pro tip: Make additional chimichurri, and enjoy it the next day with your next meal.

Easy Coconut Rice

: Tasty 3-ingredient recipe for any dish, sure to wow your guests!
Lunch/Dinner:
Calypso Rice Caribbean-Style

 ): an easy but flavor-packed side dish, best paired with a roast turkey, chicken, ham, or fish course.

Fried rice: a simple, cost-effective, no-waste recipe

Cheesy BBQ Chicken and Rice Quesadillas

: made in only 30 minutes, these delicious yet straightforward quesadillas are an easy dish for a party or family gathering.

Pro tip: Make them vegetarian! Substitute the chicken with black or pinto beans or a plant-based meat option.
Dessert:
Puffed Rice Chocolate Bars

: simple dessert recipe, served cold and frigerated in small portions.

Pro tip: Use your bars as a topping over your favorite Arroz con Leche.

Arroz con Leche is a popular and classic Latin dish,

meaning "rice to milk" or rice pudding.

Pro tip: Personalize your dish by adding your own toppings! My favorite toppings include shredded coconut and chocolate drops.
Pro tip: If you don't have any lime on hand, you can substitute it for an orange. The citrus balances out the other sweet ingredients for a delicious, unforgettable taste.
All in all, white rice is an excellent, diverse food for delicious dishes, sides, and even desserts for the pickiest eaters!
Featured Photo by Quang Nguyen Vinh : Pexels