There's no better time to get the space in your home in order than in the lead-up to the holidays (yes, really!). Although this time of year is hectic, especially with excited little ones running around, you'll already be in planning and organization mode, so it could be worth making the most of that momentum. Doing various simple things around your living space during the upcoming weeks and beyond will ensure that you start the new year feeling joyful, refreshed (okay, maybe a little tired), and ready for whatever the new year holds when your home is organized. 
There's never a super quiet time to do these things when you have a family to take care of for an organized home. Therefore, making a list (checking it twice) and working through it at a manageable pace is the best way to go through your home and make it an organized haven for busy family life. So, grab a hot drink of your choice, put your feet up, and grab your notebook and pen so that you can get a head start on creating a carefully considered home that works just as hard for you as you do for it. The following are some ideas and tips on the areas you could address regarding the function and coordination of your family abode.
Future Proofing
Depending on where you live in the world, this time of year brings all sorts of seasonal and weather changes. These can often impact your house and home. All too often, the damage is only repaired when it becomes so bad that it affects the family's quality of living or if it needs emergency action and a quick response like a bad leak in the roof, burst pipe, or the electrics blown (you get the idea). However, this can cost a lot of money and time, not to mention the additional stress of trying to sort it out, along with any residual damage.
Therefore, it's worth having a look around your home, both inside and outside, and noting down any areas that look tired, damaged, or just plain broken. Once you have an idea of each area that could use some TLC, list them in order of priority, with the thing that could cause the most long-term damage and cost the most money at the top of that list! There are often offers and deals on a variety of services, so it could be worth doing a little research, sending out some emails for quotes, and sorting a budget out for each area so that you can future-proof your home.
You are not expected to book a tradesperson and have the work carried out and completed before Christmas! Remember that this is all about alleviating stress, not adding to it. It's just so that you can head into 2023 knowing exactly what you want to be carried out throughout the months ahead. It's like a pre-organization of the actual organization that your future self will thank you for! 
There's also no harm in doing those odd jobs over the holidays if you have the time to see them (or get all hands on deck and ask your partner to do them). Things like moldy sealant can be replaced. Old lightbulbs can be switched, wobbly fixtures and fittings can be tightened up, and so on. It's such a lovely feeling to have tied up all those loose ends pre-Christmas so that you can truly relax and enjoy time with the kids on Christmas morning!
Stocking-Up
Now, when they think of stocking up, most people imagine filling the kitchen cupboards with tins and dry foods, just in case. While it's always good to have plenty of sustenance and snacks, especially with lively children (do they ever stop eating?), there are other items you can grab to make sure that family life can run that little bit more smoothly in an organized home. Remember those little things discussed previously? It's worth grabbing extra light bulbs (especially those pesky fairy lights). Ensure the garage is full of DIY-friendly items (sealant, grout, paint for touch-ups, etc.) and fabric and threads for inevitable holes in the knees and elbows of the kid's clothing. It's great when you need to do an odd job and have all you need, so go through your list and grab any deals on bulk buying you might see.
There's always an occasion to celebrate or a party to attend, especially if you're a busy mom. Therefore, if you haven't already, start collecting greeting cards for a card box. There will always be the odd card here and there, or sometimes boxes of them, that you can pick up for a great sale price before you need it. The trick is to buy as you see, rather than when you need it so that you'll always have something lovely to write and send to the recipient, even if it's very last minute (and the invitation was at the bottom of the school bag the whole time).
You might want to do something similar with gifts; you can fill separate boxes depending on who the gifts would suit. A box for your female friends and family members could have some jewelry items from WholesaleSparkle.com, little boxes of confectionery or cookies, and nice-smelling candles or skincare gifts. Perhaps you have a little boy who is always heading to a friend's birthday at the weekend; stock up on little Lego sets you might see in a sale, candy, and art supplies. You could dedicate a particular cupboard or section to gifts and cards for others. Add some wrapping paper, tape, and any ribbons or gift tags you've picked up along the way. You now have a mini-mall at home whenever it's celebration (or commiseration) time.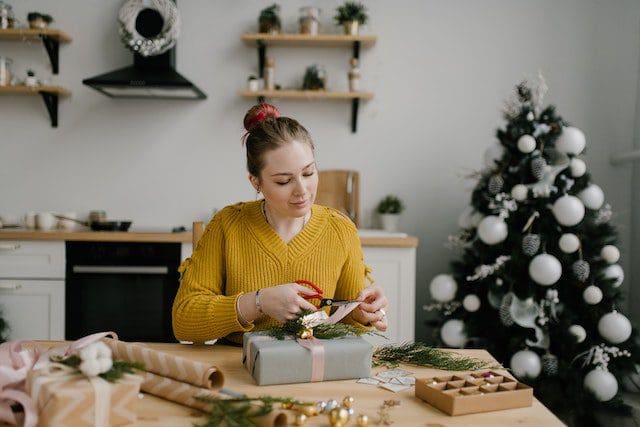 A Place For Everything
Now that we've discussed the dedicated space for gifting, it leads smoothly into creating a space or zones for many other things. Much like you'll have specific cupboards in your bathroom and kitchen for certain items, the rest of your home should be just as easy to access things you need, especially when you need them in a hurry (mornings before school come to mind). The front and back doors to your home will obviously see the most traffic and footfall; therefore, it's worth making them into a functional space that will help you out regularly.
A storage bench is a great way to ensure family members have somewhere to sit as they put their shoes on and take them off again. Providing storage within the seating area will encourage everyone to leave their shoes and sneakers so that mud doesn't get trodden throughout the home. They're easily found first thing in the morning, so nobody misses their school bus. Above the seat is the ideal location to put up some hooks for coats, jackets, umbrellas, and hats; again, this provides a specific place so that items aren't lost elsewhere in the house. Add some smaller hooks for our keys, and you've got some functional doorways.
Furthermore, consider using instant access self storage units if you need additional storage beyond what your home can offer. These facilities provide a secure and convenient solution for storing seasonal items, sporting equipment, or other belongings you don't frequently use, keeping your home clutter-free and your mind organized. Easy access to your stored items allows you to enjoy a tidier living space and a stress-free environment.
This idea can filter throughout the rest of your home. Whether it's sports equipment, arts and crafts supplies, or a specific area to enjoy movies and music, creating zones and specific spaces will allow your home to function, make clear sense, and become an enjoyable space in which to spend time. Therefore, look at each room or area and consider if any items need a new home in the new year.
Team Work Makes The Dream Work
Remember that all this doesn't just mean that mom sorts everything out! The best way to get a house in order, and get the momentum going regarding organization and storage, is to get the whole crew on board. Kids of every age love to feel like they're a part of an important task and helping the household to run smoothly. Therefore, it's worth spending time together (perhaps during the strange week between Christmas and New Year) and making some chore sheets, sticker charts, and reward posters! A positive emphasis on regular, helpful tasks around the home will ensure that your little ones become a huge help and will enjoy doing so.
For larger cleaning and organization tasks, make them a fun family day involving all the kids and parents; this is the perfect way to keep the activities fun and appreciate family time together. Perhaps it's washing the car, a laundry day for all the sheets and towels, or a day of one-pot cooking, so that you can fill the freezer for the weeks ahead. Order a pizza afterward. Make sure your favorite music is on loudly for all to enjoy, or end the laundry day with a box of donuts. Use incentives to delight the whole family, and ensure that the day is always something to look forward to together.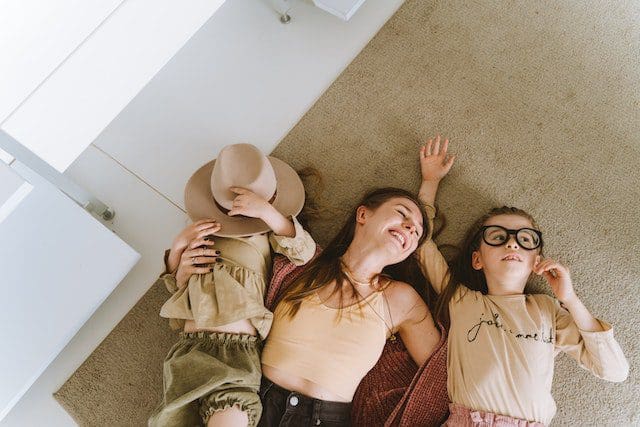 Right, now go and enjoy your holiday season together!
Featured Photo by Ketut Subiyanto: https://www.pexels.com/