In recent years, many companies have ported their services to the Google cloud platform, and this is not without reason. Google allowed its customers to use the hosting environment efficiently and to provide its software products with stable and fast performance. Even the most vocal critics of Google respect the monopoly power of the world's best search engine. The main benefits that have made Google Cloud Hosting successful are outlined in this article.
1. Flexible and affordable pricing plans
Google has provided users with cost-effective pricing plans. Google's billing feature is based on a rational approach and flexible pricing with long-term cooperation. In practice, the client pays only for the actual computation time and gets a discount for the monthly use of virtual hard disks. This approach is the most reasonable for most startups and attracts most of the target audience. Moreover, Google Cloud Platform provides a free trial, after which the user will be able to choose the best plan for their needs.
2. Quality performance
In the segment of price/quality ratio, Google Cloud Platform provides the most balanced solution. Google cloud services have proven their reliability and stability over a long period of time and have cemented their status as the most trusted partner in digital storage.
Thanks to its extensive infrastructure, Google offers stable access to user data from anywhere in the world. The reliable equipment of the company allows the site to function stably with any number of simultaneous visitor activities and to reduce page load to a record minimum. Google cloud app development is a profitable solution.
3. Constant expansion
Google's service delivery infrastructure is constantly expanding. Amazon Web Services, Microsoft Azure do not have such a huge potential in the number and quality of computers as Google Cloud Platform. The company is actively expanding the coverage of its own private network, which ensures high download speed and high-quality operation of all services.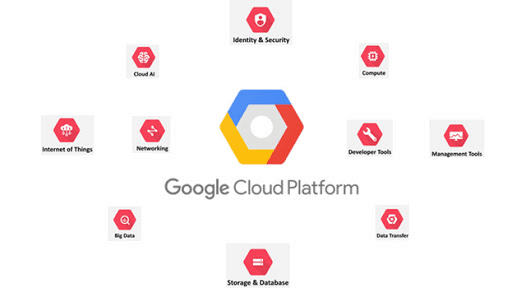 4. Private internet fiber
The main and indisputable advantage of Google cloud services is the largest network in the world. In 2015, the company announced a unique cable system, which made it possible to significantly speed up the exchange of data not only between countries but also between entire continents. Today the same system is widely used for various services of the company. Thanks to the extensive coverage, users from all over the world can get quality computing resources.
5. Security and consistency
Google's cloud hosting service is equipped with advanced security systems that are being improved in real-time. All digital data in transit between clients and processing centers are encrypted and stored on the cloud platform. A multi-layered security system allows you to withstand any inconsistencies and ensures the secure transfer of customer data. In addition, Google has the best connections with major ISPs, which complements the company's stability and reliability.
6. Data backup
A large number of call centers, electronic storage systems, and computers allow Google to provide a built-in backup service. If a certain part of the software product is unstable or under attack, the system creates a backup copy and protects the stored information from unauthorized deletion. Backups guarantee the integrity of customer data in any difficult situation.
Conclusions
The benefits of cloud hosting and storage, Google Cloud Platform is based on a significant superiority in coverage (fiber optic): a global presence in all countries of the world. A modern set of services for storing and managing a large amount of information, advanced data transfer technologies, a huge infrastructure of data centers and servers provide the best service in the cloud hosting segment. We offer the best DevOps services and solutions for our clients.
Featured Image provided by DataArt