Nestled along the picturesque coastline of Spain, Alicante is a hidden gem waiting to be discovered. With its blend of stunning beaches, rich history, vibrant culture, and delectable cuisine, this coastal city offers a diverse range of experiences for every traveler. Whether you're seeking relaxation on sun-soaked shores, delving into historical treasures, or indulging in local flavors, Alicante has it all. In this comprehensive travel guide, we'll uncover the essence of Alicante and explore the convenience of Alicante vacation packages.
Exploring Alicante Vacation Packages
When it comes to exploring Alicante, vacation packages offer a seamless way to maximize your experience. These thoughtfully curated packages encompass everything from accommodations to guided tours, ensuring that your trip is hassle-free and tailored to your preferences. Whether you're a solo traveler, a couple seeking a romantic escape, or a family in search of adventure, Alicante vacation packages provide a well-rounded and convenient way to immerse yourself in the city's charm.
These packages often include accommodations in prime locations, allowing you to wake up to the breathtaking views of the Mediterranean Sea or the historic streets of Alicante's Old Town. Additionally, guided tours are a highlight of many vacation packages. Expert guides lead you through the city's historical sites, sharing captivating stories and insights that bring the past to life. Whether you're exploring the imposing Santa Bárbara Castle or strolling through the charming streets of El Barrio, these guided tours offer a deeper understanding of Alicante's rich heritage.
Alicante's Beachfront Beauty
1. Playa del Postiguet
One of the city's most iconic beaches, Playa del Postiguet, offers golden sands and crystal-clear waters that gently caress the shore. Situated in the heart of Alicante, this urban oasis is perfect for sunbathing, swimming, or simply taking in the breathtaking views of the Mediterranean Sea. As the sun sets, the beach transforms into a vibrant hub of nightlife, with beachfront bars and restaurants buzzing with activity. Take a leisurely evening stroll along the promenade, immerse yourself in the joyful atmosphere, and perhaps indulge in some delicious seafood cuisine as you listen to the sound of waves lapping the shore.
2. San Juan Beach
For those seeking a more expansive coastal experience, San Juan Beach is a must-visit. With over 7 kilometers of soft sand, this Blue Flag beach is a haven for water sports enthusiasts, families, and anyone looking to unwind. The beach is flanked by a lively promenade dotted with cafes and shops, making it a perfect spot to enjoy a leisurely stroll. Consider starting your day with a refreshing morning swim, followed by a relaxing sunbathing session, and perhaps renting a kayak or paddleboard to explore the azure waters. San Juan Beach's spaciousness ensures that you can find your own little piece of paradise, whether you're seeking solitude or shared moments with loved ones.
Cultural Treasures and Historical Wonders
1. Santa Bárbara Castle
Perched on Mount Benacantil, Santa Bárbara Castle is a historical marvel that offers panoramic views of Alicante and its surroundings. As you explore the castle's grounds, you'll be transported through centuries of history, from its Moorish origins to its role in defending the city during various periods. The castle's strategic location and architectural splendor make it a captivating site for history enthusiasts and photographers alike. Engage with the history as you wander through its ancient halls, climb its impressive towers, and take in the vistas that stretch as far as the eye can see. Whether you're exploring the dungeons, admiring medieval architecture, or simply enjoying the fresh breeze, Santa Bárbara Castle is a testament to Alicante's rich and diverse heritage.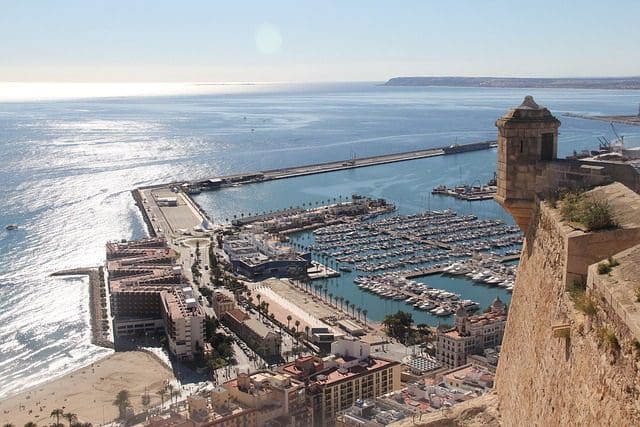 2. Old Town (El Barrio)
Wander through the charming streets of Alicante's Old Town to immerse yourself in the city's rich heritage. El Barrio is a labyrinth of narrow alleys, colorful houses, and quaint squares. Discover hidden gems, like the Convent of Santa Faz and the Co-Cathedral of Saint Nicholas, and embrace the vibrant local atmosphere. Allow yourself to get lost in the labyrinthine streets, where every corner reveals a piece of history or a local treasure. The Old Town's bustling markets, artisan shops, and inviting cafes provide ample opportunities to interact with the locals and get a taste of the authentic Alicante lifestyle. Make sure to visit the market stalls and indulge in some tapas and local treats, giving your senses a delightful journey through Alicante's culinary heritage.
Gastronomic Delights of Alicante
1. Fresh Seafood and Rice Dishes
Alicante's proximity to the sea ensures a culinary scene that's rich in fresh seafood. Don't miss the opportunity to savor traditional rice dishes like paella and arroz a banda, which showcases the flavors of the Mediterranean. Many beachfront restaurants offer these dishes, allowing you to enjoy both culinary delights and breathtaking views. Consider starting your culinary adventure with a seafood feast, where you can enjoy freshly caught fish, succulent shellfish, and perfectly seasoned rice dishes. Pair your meal with a glass of local wine and toast to the flavors that define Alicante's coastal cuisine.
2. Mercado Central
To experience the essence of Alicante's culinary culture, head to Mercado Central. This bustling market is a treasure trove of fresh produce, meats, cheeses, and local specialties. Engage with friendly vendors, sample Spanish delicacies, and pick up ingredients for a picnic by the sea. Exploring Mercado Central is not just a culinary experience; it's a journey through the heart of Alicante's food scene. From the vibrant colors of the fresh produce to the savory aromas of cured meats, every corner of the market tells a story of Alicante's gastronomic heritage. Don't hesitate to strike up conversations with the vendors, who are often eager to share their knowledge and passion for local cuisine.
Crafting Your Alicante Experience
With its captivating beaches, historical landmarks, and culinary wonders, Alicante beckons travelers seeking an authentic Spanish experience. Alicante vacation packages provide a convenient way to make the most of your journey, allowing you to focus on immersing yourself in the city's charm. Whether you're gazing at the Mediterranean horizon, exploring ancient fortresses, or savoring local flavors, Alicante promises a truly unforgettable adventure that combines relaxation, culture, and exploration in one stunning coastal destination.
Conclusion
Alicante's allure lies in its ability to offer a multifaceted experience that caters to a variety of interests. From its sun-soaked beaches to its cultural treasures, the city invites you to uncover its hidden gems and bask in its Mediterranean beauty. So, whether you're embarking on a solo journey or planning a romantic escape, Alicante promises to leave you with memories that will last a lifetime. The city's blend of history, culture, and coastal splendor ensures that every moment spent in Alicante is a moment of discovery and delight.
Featured Image by Hernán Morales Carrizo from Pixabay