The following post is from Emily of Live Renewed: Buying Used: How to Fill Your Home with Secondhand Stuff
I'll admit, I have a little bit of a problem – I love to buy other people's stuff. I mean like, pre-owned, secondhand, used stuff. Granted, it's not junk. On the contrary, I love to find stuff that's in great condition that people are selling because they don't use or want it anymore.
I'm happy to take it off their hands and bring it home to be used and loved by our family, while also helping protect the planet by saving the resources that would have been used to make me a brand new item to buy, saving this used item from ending up in the landfill, and saving our family a lot of money in the process.
Our family has been committed to buying things used as often as we can for the past several years. If there are things that we need, or would like to have, we like to try to find them used first, before we go out and buy them new. We've purchased all kinds of great used stuff for our home and family over the past few years, as I look around my house while I type this, I see so many things that have a story that began before they came to our family.
I see cloth diapers, a vintage wooden highchair, clothes and toys for my kids; furniture, curtains, wall hangings and other decor; kitchen gadgets, dishes, and 10 dozen canning jars (still trying to figure out what I'm going to do with all of those!); even a reel mower, bikes, tools and sports gear that are scattered across our lawn and garage, all purchased secondhand. We've learned a thing or two about the best place to buy things used along the way, and I wanted to pass some of those tips to you!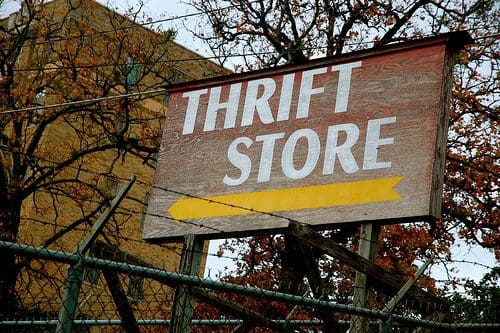 There's no shortage of places to buy great used stuff today: Craigslist and ebay; Consignment stores, thrift stores and antique stores; online forums and Facebook groups; garage sales and estate sales just to name a few. We use all of these different resources in different ways for buying used items that we need and want.
The key is to know the best places to look for the things that you need to buy.
When You Need Something Specific:
Craigslist and eBay
These sites great for searching for specific things you want to buy; much easier than scouring through thrift stores and garage sales, because we all know those places can be very hit or miss. You can even set up saved searched on ebay so that when new items that match your search are listed, they let you know. That way, you can stay on top of your search for something you need, without having to check in every day.
Online Buy/Sell/Trade Boards
Online Forums can also be great if you're looking for something specific. I have used DiaperSwappers.com to buy lots of my cloth diapers used, as well as some baby gear and kids clothes, and saved a lot of money in the process. There are all different types of online forums with Buy/Sell/Trade boards, so you'll need to do a search to find ones that offer the kind of items you're most often looking for. Each forum has it's own rules for buying and selling, so make sure you review those before you jump into the forum.
Consignment Stores
Also, I like to shop at consignment and second-hand stores for things that are more of an immediate need, like clothes for the kids when they're about to outgrow their old ones. I also shop as much as I can at consignment stores for my own clothing. Typically at these types of stores, the items are higher quality and you're more likely to find at least something that you can use, unlike at thrift stores and garage sales, and you don't have to sort through as much junk.
When You Just Want to Browse for Good Deals:
Thrift Stores, Garage and Estate Sales
These can either be really awesome or really terrible, so they're best for more general browsing for things it would be nice to have, but you don't really need to buy right away. They're also great for finding things that you may not have known that you wanted, but you can come across items that can be reused, repurposed, refinished or remade into something that works for your family.
I don't rely on garage sales or thrift stores for finding things that I really need to get for my family, unless it's something we can wait to have until we come across one. For example, our waffle maker broke a while ago, and I really wanted to find a vintage waffle maker like the one my mom has, so I looked at thrift stores and garage sales over the past few months, but didn't find anything. It wasn't a pressing necessity, but we do love waffles, and missed making them. Thankfully, my mom found a great vintage waffle maker at an estate sale for $4 and grabbed it for us!
Facebook Groups
A new option that has become really popular lately are Facebook garage sale type groups. You join a group, usually with people in your area, and everyone lists stuff they have for sale. It's kinda like a really big, online garage sale. Lots of the stuff listed for sale is probably not stuff that you would want to buy, but when you see something you do want, you arrange to meet the seller to pay for and pick up your item.
One nice thing that the group I'm a part of offers is an "In Search Of" thread every week. You can list things that you are specifically looking to buy and then people can contact you if they have that item for sale. I've gotten more than a few things for our family by posting an ISO on the group's board.
If you're not in a group in your area, you can either search for one or ask friends and family in your area if they know of a group you can join, or you can get a group of friends together and start a group yourself. For the group I'm in, everyone has to be invited by someone who knows them and can basically "vouch" for them, that way you always know that you're buying from a friend of a friend. That being said though, I've never had a bad experience with buying or selling in the Facebook group I'm in.
Antique Stores
Lately I've become really interested in vintage pieces. I've never really shopped at antique stores, but I can't wait to start exploring the ones around my town, learning more about how to shop for antiques, and finding some hidden gems! I've also recently found that there are a ton of vintage sellers on Instagram that post pictures of items for sale. I've bought some used books on IG for my kids, and been drooling over vintage Pyrex, quits, and toys. Some vintage and antique things are a little more expensive because they are collectible, but it's still a great way to buy things used rather than new.
If you usually run out to the big box store whenever you need to buy something, it may take you a while to become comfortable with looking for things used first. But, once you do, you will realize that there is no shortage of great, high quality, used stuff out there just waiting for you to buy it!
Where's your favorite place to find great used stuff for your family? Do you have a strategy for finding secondhand items that your family needs? 
Emily McClements strives to live with compassion and caring for creation in a way that will impact the world. She is a blessed wife and mama to three young children, and blogs about her family's journey toward natural and simple living at Live Renewed.