The following post is from Shaina of Food for My Family and Olmanson Photography: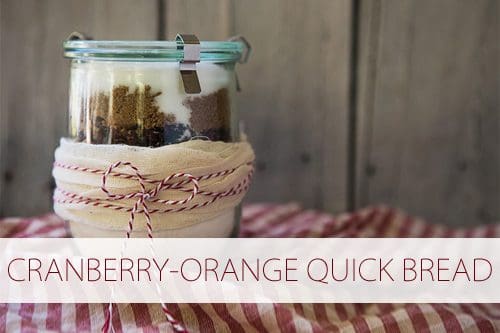 A recipe for orange-kissed cranberry quick bread that can be gifted in a jar as a mix or already baked into loaves.
I dislike shopping malls, especially around Christmas. Being jostled from behind and elbowed as I stand in line or try to search for the perfect gift doesn't appeal to me, especially not as an introvert. However, the gifting part is what makes me look forward to Christmas, showing those I love that I care. This leads me to trying to be more and more creative with what I have in my own home without venturing to the decked out mall during the Christmas season. In my eyes, my kitchen is the best shopping mall there is.
This recipe is one that can easily be gifted two ways: as a mix or already baked into loaves. It has a hint of tangy cranberries alongside the Christmas orange baked into a soft, sweet bread that can also do double duty as a sweet treat at breakfast or as a dessert. Of course, you can always just make it as a little gift to yourself, too.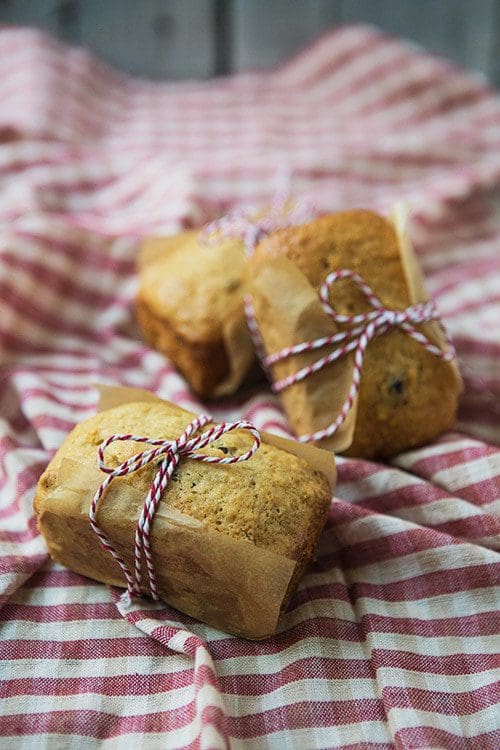 Ingredients:
1 3/4 cups all-purpose flour
2 1/2 teaspoons baking powder
1 teaspoon dried orange peel
1/2 teaspoon salt
3/4 cup milk
2 eggs
4 tablespoons unsalted butter, melted
1/2 teaspoon orange extract
1/4 teaspoon vanilla extract
1 1/4 cups palm sugar (or 3/4 cup light brown sugar + 1/2 cup granulated sugar)
1 cup walnuts, optional for those with allergies
1 cup dried cranberries
Directions:
Preheat oven to 350 degrees F.
In a medium bowl, whisk together the flour, baking powder, dried orange peel, and the salt. Set aside. In a separate bowl, whisk together the milk, eggs, butter, and both extracts. Add in the sugar and mix until combined.
Slowly stir in the flour, mixing just until moistened, followed by stirring in the walnuts and cranberries.
Pour the batter into a greased 8″ loaf pan or eight 3″ loaf pans. Bake for 45-50 minutes for the large loaf or 30 minutes for the small loaves, until the top is golden brown and a toothpick inserted in the center comes out clean.
Remove from the oven and allow to cool slightly before removing the loaves from the pan and cooling completely on a wire rack.
Variations:
To give this as a dry goods jarred gift, layer the flour, baking powder, salt, walnuts, cranberries, and sugars in a 1-quart mason jar. Top with a lid. Place the directions for preparation (below) on the jar. Decorate and gift.
To Make Cranberry-Orange Quick Bread:

2 large eggs
3/4 cup milk
4 tablespoons melted butter
1/2 teaspoon vanilla extract
1/2 teaspoon orange extract

Preheat the oven to 350 degrees F. Beat together the eggs, milk, butter, and extracts in a medium bowl. Add the contents of the jar and mix until just combined. Pour into a loaf pan and bake for 45-50 minutes until the top is golden brown. Allow to cool slightly before removing to a wire rack.
Related Projects:
Join us as we celebrate 101 Days of Christmas with new DIY projects, gift ideas, traditions and more every day from now through Christmas!
Shaina Olmanson is the freelance writer, photographer, and home cook behind Food for My Family. Cooking daily with and for her four kids and husband, Ole, drives her desire to inspire other families to do the same. Shaina is also the author of Desserts in Jars and contributes regularly to a variety of online sites and traditional print magazines.