The following post is from Janel of Life with Lucie and Ella.: Dress Up Your Candles with Beads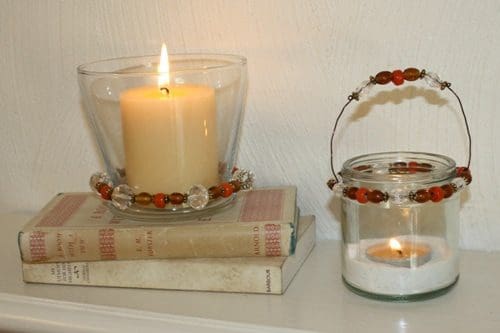 As the temperatures drop in the Fall, I love to make my house a little bit cozier. Candles are an inexpensive and great-smelling way to do this!  Recently, I found some delicious fall-scented small pillars and tealight candles at the dollar store.  Pumpkin spice, cinnamon, and vanilla candles, anyone? But, what is a candle without a candle holder?
Candle holders are simple to make on your own…you just need a little imagination. Myra and Lisa, my fellow contributors here at DIY Your Way have some awesome DIY candle holder ideas on their own blogs — Hurricane Vases and wooden 15-Minute Fall Candleholders. Love, love, love them!
Here are my two simple ways to dress up candles with beads! With some basic jewelry-making supplies, you can transform a simple dollar-store candle holder or recycled jar into something unique for your fall mantel or tablescape.
Dress Up a Basic Glass Candleholder
This idea is so fast and easy. Essentially, you make an elastic bracelet to slip onto an existing candle holder. My dollar-store candle holder has a flare at the bottom that is great for holding the beads in place. You can use store-bought beads or make your own beads with scrapbook paper and mod podge.
Supplies
beading elastic
scissors
a glass vase or candleholder
Instructions:
Leave the beading elastic on the spool and start threading the beads onto the loose end of the elastic. Keep adding beads in the pattern of your choice until the length is sufficient to fit around your glass candle holder.
source: Janel Piersma
Tie a double or triple knot to make a "bracelet" for your candle holder. Use the scissors to snip the bracelet from the spool.
Slip the "bracelet" onto your candle holder.
Make a Beaded Candle Holder with a Handle:
This idea takes a little more work, but is a fun way to reuse any glass jars that you have — mason jars, jam jars, or even "Better than Bouillon" jars! Small tealight candles work great in little glass jars.
Supplies:
nail clipper or wire cutter
needle-nose pliers
copper craft wire — you can find this in a variety of colors
glass jar
beads of your choice
Instructions:
With a nail clipper or wire cutter, cut a length of craft wire that is long enough to wrap around the top of the jar and then arch into a handle. Use the needle-nose pliers to make a loop at one end. If you wish, make a double-loop for extra security.
Thread beads onto the wire until you can wrap the beaded wire all the way around the top of the jar. Slip the end of the wire through the wire loop. Pull tightly to close the beaded circle. Wrap the wire through the double loop again to secure.
Arch the wire up to form the handle. To add beads to the handle, use the pliers to make another small loop in the wire, thread on some beads, and then make another small loop to hold the beads in place.
Bring the wire down to the opposite side of the beaded circle to finish attaching the handle. To secure it, wrap the end of the wire around the wire of the beaded circle between two beads. Wrap the wire a couple of times and snip off any excess.
To hold your tealight candle securely in the bottom of your jar, you can surround it with sand, small rocks, or glass decor beads.
Do you have any great candle holder ideas for fall?
Janel is a stay-at-home mom of two and law school wife. Raised in a budget-conscious and do-it-yourself minded family, she loves seeing something in a store or magazine and making her own version at home for less money. Janel blogs about motherhood, crafts and recipes at Life with Lucie and Ella.