Remember Devi Vishwakumar's (played by Maitreyi Ramakrishnan) nose ring in Netflix's 'Never Have I Ever? Not only did it leave an impression, but it eventually became an essential part of her personality and femininity.
Nose rings are essential to Indian culture and several other traditions globally. A simple nose pin in gold no more symbolizes a woman's adulthood but has evolved to become a style statement adorned by progressive young girls and women alike. But this craze of experimenting with nose pins is not new! They have been an essential part of India's jewelry tradition for ages and do have a charm of their own. Several people want to try a new look and be a part of the trend. For the same, it's advised to check out the wide range of simple nose pin gold available at the nearby Mia by Tanishq stores.
Why Adorn Nose Pins in Gold?
While nose pin designs are available in every metal, simple nose pins in gold are the most desired. This is because gold as a metal is thought to be blessed by Goddess Lakshmi. Several renowned astrologers believe that gold is influenced by Jupiter, which gives in way to fortunes.  
Why Wear Nose Pins on the Left Side?
Even though you can wear a simple nose pin in gold on the left or right side, the Vedas emphasize wearing a nose pin on the left side. The left side is believed to be connected to the reproductive system. When a nose is pierced on the left side, several nerves get stimulated that help maintains the health of the uterus and also help ease menstrual cramps and labor pain.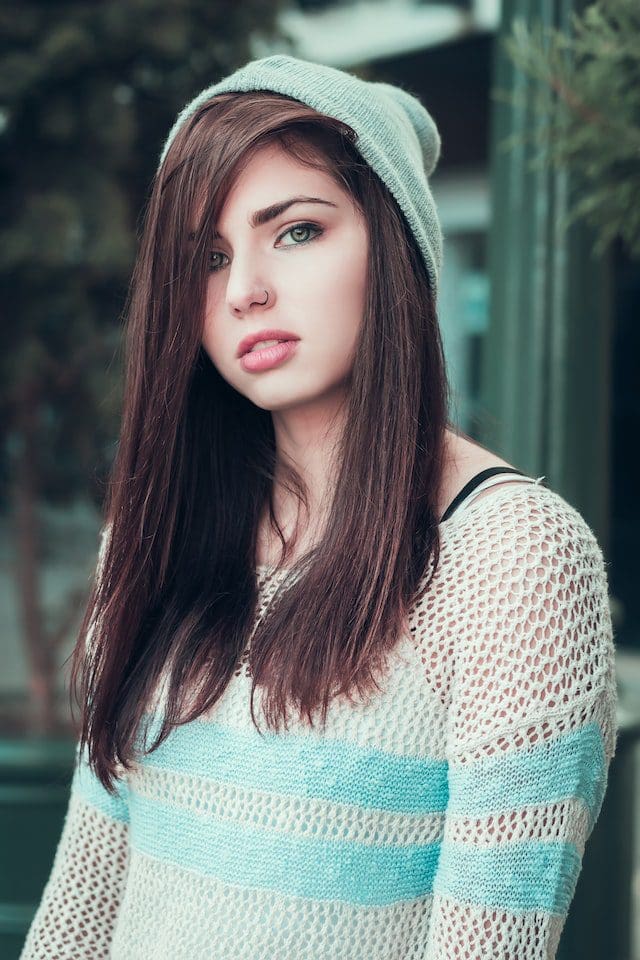 How to Choose Nose Pins that Suit Face Shape
There are no rules regarding choosing a nose pin, as they come in many designs and sizes. But one can remember the following tips for a better selection:
Nose Pins for Round Faces: 

Select a simple nose pin with fewer vertical dimensions in gold. By doing so, one can expect the face to look less round. The nose pin should be placed right above the nostril. The gemstone in the nose pin can be decided based on the size and shape of the nose. For a broader nose, go for a smaller stud nose pin. Invest in a gemstone nose pin in a hoop if the nose is pointed.
Nose Pins for Long Faces

: In this situation, a simple nose pin in gold with colorful gemstones or beaded in a pattern will be ideal. A splashy nose pin will draw attention away from a long face. Purchasing one with metallic beads will be wise if one doesn't prefer ornate nose pins. These designs are ideal for a subtle and classy look.
Nose Pins for Angular Faces

: A nose pin that can give a softer appearance to face features will be a good idea if you have an angular face. One can go for segmented nose pins as their roundness complements the angular face form.
Now that they are considered a fashion revolution, nose pins are available in various designs, sizes, and metals. Their versatility, even though slowly, has been widely recognized across genders, age groups, and classes. While one can go freestyle with them as with earrings, nothing can replace the elegance of a simple nose pin in gold.
Mia by Tanishq is as much known for its statement pieces as for its simple but striking designs. Browse through their website to choose a simple nose pin in gold.
Featured Source: Mia by Tanishq