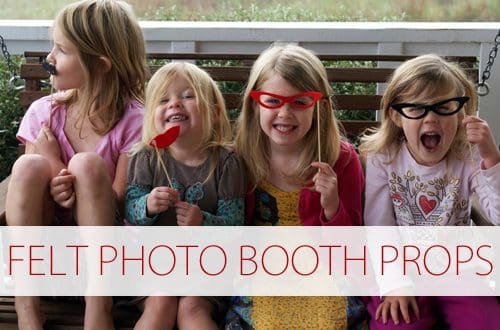 Shaina from Food for My Family recently came for a visit to hang out and take family photos for us. Among the many fun things she brought with her were a pack of cardboard mustaches, glasses, and lips to use as photo props.
The girls were so excited to play with these, and I decided to make some stencils of my own so that we could create sturdier versions made out of stiff felt rather than paper that gets bent up and ruined.
These would make great photo props for your Christmas card photo, or use them as stocking stuffers!
They are also great for parties and weddings. If you are planning a party, consider putting together a photo booth with different kinds of props that go with the theme of your party. Have a camera that has a remote, otherwise, you will need someone to operate the camera. A photo booth will liven up the party. After the party, print out the pictures and share them with your guests.
Click here to download or print your photo booth templates.
I couldn't resist sharing this series of photos we took earlier this week. They're such a good reflection of each of our girls' personalities!
Supplies:
stiff felt or cardstock
1/8″ dowel
hot glue
Directions:
Print the photo booth templates and cut them out. Trace the shapes onto your felt or cardstock and cut them out. Or use double-sided tape to secure them to the felt so you can cut without tracing.
Lay right side down and hot glue the dowel to one corner of each shape. Be sure to think about whether they should be right- or left-handed; I accidentally made all of mine for the left hand!
Let the glue dry, and then have fun!
Related Projects:
Join us as we celebrate 101 Days of Christmas with new DIY projects, gift ideas, traditions, and more every day from now through Christmas!