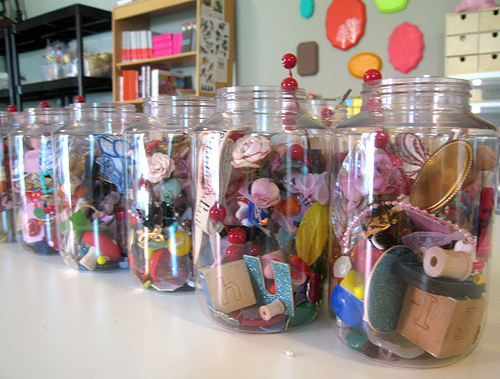 Organizing children's craft supplies doesn't have to be expensive! Here are 10 common items that you can reuse to help get you organized instead of throwing them away:
1. Jars
Use jars for craft supplies so that you can see how much you have. As the picture above shows, using jars is a great way to display colorful supplies as part of your decor as well! Turn clay flower pots into a birdbath.
2. Baby food containers
I'm not specifically talking about baby food jars here, although those would work as well. I prefer to use Gerber's plastic containers for storing my craft supplies. These rectangular containers come in 2.5 oz or 4 oz and have a snap-on lid. They stack well, and I love to keep googly eyes, sorted buttons, and small craft balls in them.
3. Baby wipe containers
Reuse an empty baby wipes container – with or without the lid – to store a variety of craft supplies. You can also use them as a child's art box, filled with a variety of supplies for free art.
4. Shoeboxes
Shoe boxes, like baby wipes containers, are great for a variety of craft supplies. Use them for pipe cleaners, paints and paintbrushes, markers, crayons, etc. for an inexpensive storage solution.
5. Plastic food containers
Ricotta cheese, sour cream, cool whip – all of these containers can be washed and used as storage for craft supplies. The downside is you can't see what is in each one or how much is left, but free is free.
6. Cans
If you have a can opener that opens cans without leaving a sharp edge, use your empty cans as pencil holders (like the crafts we all made for our parents when we were in school) or for miscellaneous doodads.
7. Paper towel rolls
If you've got a mess of ribbon, embroidery thread or twine, wrap them around paper towel rolls to keep them from getting tangled or knotted.
8. Parmesan cheese bottles
Say what? Yep, go ahead and remove the wrapper from your empty parmesan cheese bottle, and you now have a clear bottle with two different size openings. I love to use these for small gemstones, buttons, puffballs, etc. so that my girls can pour some into a bowl without dumping them everywhere. They can't get them open by themselves, so I just open whichever side is more appropriate for pouring the contents.
9. Plastic bags that zip or button
So many things today come in plastic bags, from toys to baby clothes to craft supplies themselves. Use these bags to store small craft items and small toys. The bonus is that, unlike some of the other solutions mentioned above, these are more flexible than other containers and therefore take up less room. (As always, be sure to keep plastic away from babies and small children!) Check out 15 ways to reuse plastic grocery bags.
10. Egg cartons
Reuse empty egg cartons to sort craft supplies by color, size, or type, which is also a great activity for toddlers and preschoolers. (Or – as a side note – as disposable paint or glue cups).
What other items do you reuse or recycle to organize your craft supplies?
Featured Image by L Gould from Pixabay