If you're not a nursing mama, you'll probably want to skip this post or save this Lactation Cookies recipe to make some of these cookies for a new mom in your life!
Although I've never had major supply issues as a breastfeeding mom, pumping and feeding Jackson from a bottle is a bit of a different story. Combined with the amount of traveling we've done over the past month, I'm having to work to keep my supply up so that he can continue to drink mostly breastmilk until 12 months old (in part because he's supplemented with a special formula that costs an arm and a leg!).
In the past, I've had a lot of success with oatmeal and Earth Mama Angel Baby Milkmaid tea, but I've seen quite a bit about lactation cookies — containing brewer's yeast and flax seed in addition to oats — over the last year, so I decided to try a batch. I started with the basic recipe from Milkin' Mamas and made a few changes based on Jackson's dairy intolerance and my own tastes.
Here's what I ended up with. The texture is a little bit thicker than a traditional cookie, but they're pretty tasty, even without chocolate or dried fruit. And you can easily flash freeze the dough in cookie-sized balls so that you can have fresh cookies whenever you want to boost your supply or satisfy your sweet tooth!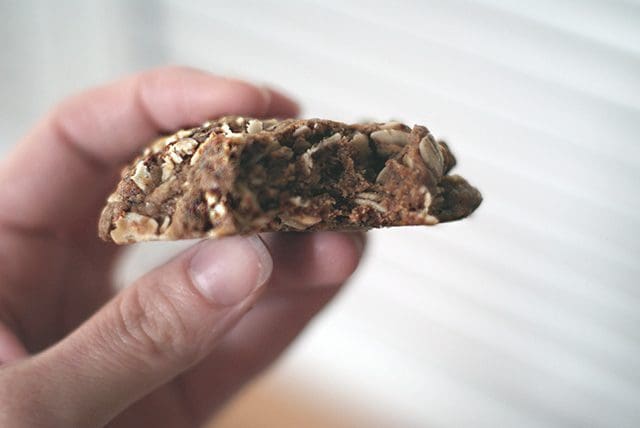 Healthy, Dairy-Free Lactation Cookies
Ingredients
2 tablespoons milled flax seed
4 tablespoons water
1 cup virgin coconut oil
1-1/4 cups coconut sugar
2 eggs, room temperature
1-1/2 tablespoons vanilla
2 cups white whole wheat flour
4 tablespoons brewer's yeast
1 teaspoon baking soda
1 teaspoon sea salt
1-1/2 tablespoon cinnamon
3 cups old-fashioned oats
Optional: add 1 cup chocolate chips, raisins, coconut flakes or other dried fruit
Instructions
Preheat oven to 350 degrees F.
Before you begin, combine the flax seed with water and set aside for at least 5 minutes.
In a large bowl, combine coconut oil and sugar and mix well.
Add flax seed mixture, eggs and vanilla and stir until combined.
In a medium bowl, sift together flour, brewer's yeast, baking soda, salt and cinnamon. Mix well.
Add dry mixture to wet ingredients and stir to combine. Add oats and any add-ins.
Using a medium scoop, place cookie balls on a baking stone or cookie sheet and press down slightly to flatten.
Bake for 12 minutes.
Remove from oven and let cool for 5 minutes.