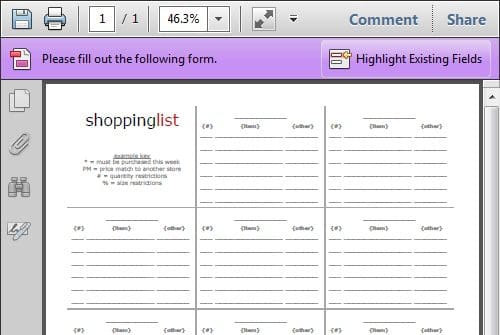 Why create a grocery list?
I have a notepad on my refrigerator where I jot down things that I need to purchase the next time I go to the grocery store. NOTE: I have learned to make a note next to the items if it is for a particular recipe. Otherwise, I don't remember why I bought leeks when I got home. Grocery lists are helpful. The list helps you remember the items you need. Plus, it saves you money and time. It keeps you from wandering around each aisle of the store and picking up things that you think you might need.  It reduces waste, so you don't buy fresh food that you don't need and it spoils. Asparagus is very bad about this. You have to use it within a day of purchasing it.  I keep a highlighter with me to mark off the things that I have placed in my shopping cart.
Printable shopping list
One of the first printables I ever made was a set of shopping lists that I shared with the Deal Seeking Mom readers.
I always make my grocery list by aisle (and now Plan to Eat does this for me automatically – woohoo!), and this printable provides the perfect framework for doing that. Plus, I've left space for notes about coupons, sales, etc.
Over time, as I developed the Life Your Way printable style, the shopping list pages began to stick out like a sore thumb, so this weekend I updated them to match the rest of the printables!
Download or print your free shopping lists:
Or get all of the Life Your Way printables in a single download when you buy the complete download pack for just $7! The complete set includes all printables published to date, organized by folder within a single download. It also includes free monthly email updates with any new or updated printables in a single download as well. Read more about download packs here.