The following post is from Emily of Live Renewed: Organizing Homemade Cleaners and Supplies – Part 2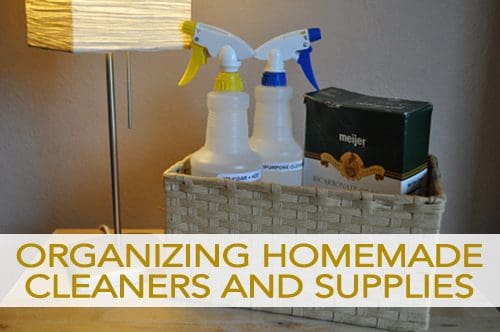 Last month we talked about ways that you can organize your homemade green cleaners and supplies, and this month I wanted to share what I've done around my house to get my supplies and homemade cleaners in order. Remember if you want to get started with homemade and green cleaning you can follow along with my 31 Days to Green Clean series this month on my blog.
Making homemade cleaners is really easy to do and requires only a few basic ingredients.   Once you stock up on ingredients,  all you need to do is remix and refill your containers as they run out.
The supplies do not require significant financial investment and can be found at your local discount store.
Here are some supplies you may need for your cleaners:
Clear Everything Out
Like with most organizing projects, the first thing I did was clean everything out of the shelf in my hall cupboard that I use for my cleaning supplies. It makes everything messier at first, but it's so much easier to get an idea of what you're working with that way.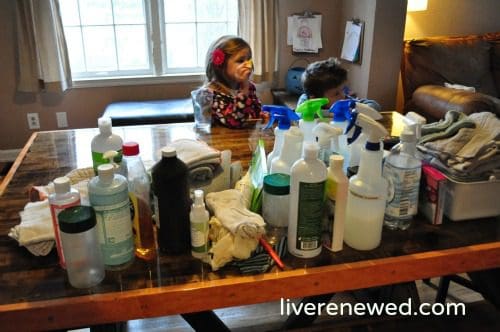 I had already made a trip to the store and stocked up on my basic homemade cleaning ingredients, so now I have at least two of everything. Then I mixed up several batches of my most used cleaning recipes, and labeled them, including the recipe for the cleaner on each label. You can also cover the labels with packing tape or contact paper to protect them from getting wet when you're refilling your bottles with cleaner.
Organize and Put Things Back
To get my homemade cleaning cupboard back into shape, I put one of each of my basic homemade cleaning ingredients onto the shelf – vinegar, baking soda, and hydrogen peroxide (my castile soap always lives in my shower, and my dish soap always lives in my kitchen – I don't usually have extras of those, although I guess I could because I use them often enough).
Then I put one of each of my bottles/containers of homemade cleaners – multipurpose cleaner, vinegar and water, baking soda in a shaker container, and hydrogen peroxide in a spray bottle, into the cupboard, along with my other cleaners that I only have one of, like my green window cleaner.
Finally, I sorted through and organized my rags and wipes and sorted similar types of wipes together. I retrieved an unused basket from my basement to help contain my wipes and keep the piles from falling over.
Keep Cleaners Where You Use Them
I also made sure that I put a bottle/container of cleaner in the places that I use them most. For me, this means I keep a bottle of multipurpose cleaner and a shaker of baking soda under my kitchen sink, a bottle of laundry stain spray and hydrogen peroxide in my basement laundry area, another bottle of laundry spray in my kids' closet to pre-treat stains before they sit in the hamper, and a bottle of shower cleaner and shaker of baking soda in my bathroom.
Now that I have all my homemade cleaners and cleaning supplies in order, it makes it much easier for me to make new batches of cleaner when I run out, grab what I need for cleaning quickly and easily, and better keep up with daily cleaning maintenance around my house.
If only getting organized would help me actually like cleaning! But, that's just asking a little too much, I think.
How do you organize your cleaning supplies to make cleaning easier for you?

Emily McClements strives to live with compassion and caring for creation in a way that will impact the world. She is a blessed wife and mama to three young children, and blogs about her family's journey toward natural and simple living at Live Renewed.