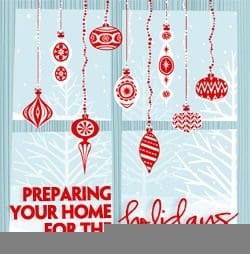 Tara from Deal Seeking Mom and I have teamed up to bring you a special series over the next two weeks called Preparing Your Home for the Holidays. Join us as we clean and declutter so that we can fully enjoy the holiday season without being distracted by dirt and clutter. I'll be sharing tips for each room we cover, and Tara will be sharing her progress. In each post, we'll also include a printable checklist to help you declutter, clean, and maintain each room. The holidays are quickly approaching, and none of us want to be stuck frantically cleaning before a family gathering or dealing with clutter as we try to make room for our holiday decorations. Today, we're talking about the bathroom. Most of us probably clean our bathrooms regularly anyway, but if you're expecting guests — whether for dinner parties or overnight visits — you probably want to take some extra time to freshen up the bathrooms they'll use on their visit. While you're at it, it can't hurt to do your master bath and any others as well!
Declutter
You know I'm a fan of decluttering. I wouldn't call myself a minimalist, necessarily (most minimalists would probably laugh at me if I did), but keeping clutter to a minimum makes our life less stressful and easier to organize.
Here are some ideas to get you started in your bathrooms:
Bath Toys
Throw away squirty toys because they can harbor mildew and mold.
Stick other bath toys in the dishwasher on a sanitize cycle to get them really clean.
Consider cutting back the number of bath toys you keep in the bathroom and rotating them from time to time.
Stockpile
Organize your stockpile in your linen closet so you can actually see what you have.
Put the earliest expiration date in the front to be sure you use it before it expires.
Donate products you won't use or have an abundance of.
Consider moving your stockpile OUT of the bathroom or linen closet and into the garage or basement if you have space.
Medicines
Throw away expired medicines (be sure to follow the FDA's recommendations for properly disposing of medicine).
Make a list of medicines/homeopathic remedies you need before cold & flu season hits.
Check for droppers, measuring cups, etc., but throw away extras (do you really need 7 of each?).
Samples
Only keep the samples you'll actually use. I love to take the packets of shampoo & conditioner when we travel, but there are some samples that I'll probably never use.
Use bags or baskets to organize them by type to make it more likely that you'll use them.
Discard old samples.
Bonus tip: Create a guest basket with samples in case your guests forget something
Cleaning:
Now is a great time for a deep cleaning because then you will only have to maintain your home through the busier months.
Dust high fixtures, windows, shelves, and the top of your bath/shower unit (if it has a ledge).
Wipe the shelves in closets/cabinets/drawers while you're decluttering.
Add cleaner to the toilet bowl and let it soak while you clean the rest of the bathroom.
Clean mirrors.
Clean the sink, especially around fixtures.
Clean shower walls and doors to remove soap scum.
Scrub the tub/shower floor.
Dust baseboards.
Clean the outside of the toilet and the toilet seat.
Scrub the inside of the toilet bowl.
Mop.
Maintaining:
I often get asked how we keep our home neat with four little ones. The key is that we literally clean up every single night before bed. We put things back where they belong, wipe down the counters, and vacuum/mop any areas that need it. Because we do this as a family, it's relatively painless and means that we wake up with a clean slate every day.
We also invest in worthwhile bathroom facilities, like a new pump to improve drainage and lessen the chances of clogging. Any messes that could back up will be a pain to clean up later, so a gray pump is a great addition for bathrooms old or new.
Limit the number of bath toys in the tub at a time.
Wipe down the sink every day. We use my husband's towel from his shower (he's supposed to be clean when he gets out, right?) or you could keep rags under the sink to use.
Don't sign up for free samples just because you can unless you really think you'll use them.
Keep a written inventory of medicine so you don't find out you're out of ibuprofen at 1 o'clock in the morning with a feverish kid.
Clean the bathroom while bathing your kids (a trick I learned from Tara!).
Click here to download or print the free printable checklist.
Be sure to stop by Deal Seeking Mom to see Tara's progress today in her bathroom!
What is the biggest source of clutter in your bathroom?

Featured Image by banksy07 from Pixabay