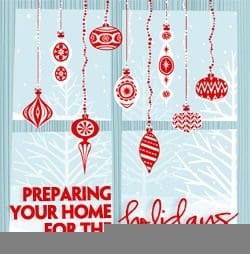 Tara from Deal Seeking Mom and I have teamed up to bring you a special series over the next two weeks called Preparing Your Home for the Holidays.
Join us as we clean and declutter so that we can fully enjoy the holiday season without being distracted by dirt and clutter. I'll be sharing tips for each room we cover, and Tara will be sharing her progress. In each post, we'll also include a printable checklist to help you declutter, clean and maintain each room.
The holidays are quickly approaching, and none of us want to be stuck frantically cleaning before a family gathering or dealing with clutter as we try to make room for our holiday decorations.
Today, we're talking about the kitchen. The kitchen is the hub of most homes, especially during the holidays. Decluttering your cabinets and cleaning out your pantry, fridge and freezer makes it easier and less stressful to bake and entertain because you'll be able to quickly find what you need. And of course, having a clean kitchen is important for setting your guests as ease. Use this checklist to get a head start so that you aren't as stressed when it's time to entertain!
Declutter
You know I'm a fan of decluttering. I wouldn't call myself a minimalist, necessarily (most minimalists would probably laugh at me if I did), but keeping clutter to a minimum makes our life less stressful and easier to organize.
Here are some ideas to get you started in your kitchen:
Cookbooks
Make copies of any recipes you don't want to lose.
Create a notebook or digitize them with a program like Plan to Eat.
Donate cookbooks that you don't use regularly.

Pantry
Clean out expired food and trash it.
Donate canned & boxed goods you're not going to use.
Organize the items in your pantry with the earliest expiration dates in the front.
Group items by category – baking, dinner, snacks, spices, etc.
Make a list of pantry staples to stock up for the holidays.
Fridge
Toss expired condiments & old food.
Drawers/Cabinets
Declutter appliances, pots/pans & kitchen tools. (How often do you really use it? Is there something else you could use instead?)
Get rid of duplicates unless you really use them.
Declutter storage containers/lids and get rid of the ones that are missing their other half.
Create "zones" for your tools so they're close to where you actually use them – a coffee zone, a baking zone, a cooking zone, etc.
Cleaning:
Now is a great time for deep cleaning because then you will only have to maintain your home through the busier months.
Start at the top – dust the tops of cabinets, appliances and range hoods.
Vacuum / wipe down cabinet shelves, drawers & your pantry.
Use vinegar/water to clean the shelves in your fridge/freezer.
Clean your oven.
Clean under your oven (often the drawer will pull right out so you can get under there).
Clean behind your fridge if possible. Take off the front grill and clean it out to make it more efficient.
Clean your stove/range. Soak inserts in vinegar to loosen the grime or use stove top cleaner for flat top stoves.
Clean stainless steel appliances with baby oil.
Clean any glass or windows in your kitchen (cabinet doors or shelves, oven doors, picture frames, etc.).
Dust knickknacks and baseboards.
Maintaining:
I often get asked how we keep our home neat with four little ones. The key is that we literally clean up every single night before bed. We put things back where they belong, wipe down the counters and vacuum/mop any areas that need it. Because we do this as a family, it's relatively painless and means that we wake up with a clean slate every day.
Keep a pantry inventory to keep track of items your need to replenish.
Try menu planning so you're not buying extras you won't use.
Clean out your fridge each week before you go grocery shopping and wipe down the shelves as you do.
Line the bottom of your oven with foil to catch drips and spills.
Clean up stove spills/boil-overs right away so they don't build up or harden.
Get into a habit of running your dishwasher regularly and emptying it right away so that your dirty dishes don't pile up in the sink.
Clean up every night so you don't start the next day with a mess in the kitchen, a la Fly Lady.
Rotate your stockpile regularly.
Use glass storage containers. They're healthier AND you can see what's in them.
Click here to download or print the free printable checklist.
Be sure to stop by Deal Seeking Mom to see Tara's progress in today in her kitchen!
What is the biggest source of clutter in your kitchen?