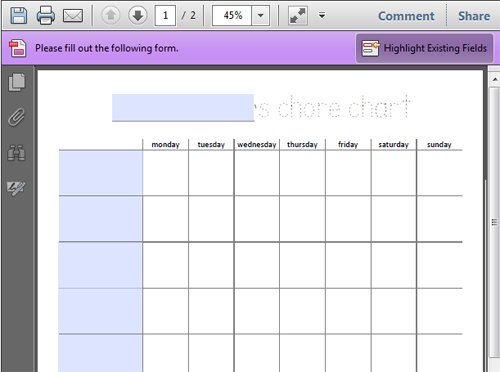 A chore chart printable has been on my to-do list for a while, but when Catherine emailed me asking for one, I figured I should make it a higher priority, and here's what I've come up with.
There's a couple of features of this chore chart that I especially love:
I left space at the top for your children to fill in their own names, or you can type the name in before printing the chore chart out if you want. The rest of the title is written in Trace font to encourage kids to, well, trace it!
You can also type in the chores in the left column (the boxes highlighted in blue in the screenshot above are fillable, but they're not actually blue on the printable).
The second page of this printable includes "sticker" shapes. You could print these on sticker paper and let your kids color them before you cut them out. You could also print them on cardstock, color them and add a magnet to the back (or for even more durability, cover them in contact paper first).
If you don't want to mess with making your own stickers, you can simply buy stickers as rewards for each completed chore.
We haven't been very successful at using chore charts in the past, but I think I might print these out for my girls as well and give it a try once again!
Click here to download or print your chore chart and reward stickers.