The following post is from Katie of Kitchen Stewardship: See My First Grader Save the Earth…from Juice Pouches!
Open mouth, insert…juice boxes?
Sometimes I say things without thinking.
We'd been at my son's new school for about a month when I visited for the Christmas party. (And yes, they did actually call it a Christmas party in a public school. Kind of refreshing, I thought.)
The kids were all starting to clean up and throw away their Capri Sun juice pouches, when my green consciousness kicked in. It was like a no-waste reflex, a gut reaction that couldn't be stopped.
"Did you know those can be recycled?" I blurted out to the teacher. "I can look into how to do it…I'll take them home."
Open mouth, insert foot. Foot tastes like juice.
A month later, I found myself the coordinator for the Terracycle juice pouch collection project for the entire K-4 school.
Luckily, the rewards are good: both the school and the earth benefit.
Terracycle recycles and re-purposes foil juice pouches of all brands and pays the school two cents per pouch.
Our job (my 6-year-old son is my team member!) will be to collect the pouches from the cafeteria. When we reach one thousand, we can request a postage-paid shipping label from Terracycle and send them in. (The rules just changed, however, and we only get one cent per pouch unless our shipment includes 5,000+ pouches. Phew.)
It's been quite gratifying to see so visually how much waste we can save from being trashed each week.
Week One:
Week Two: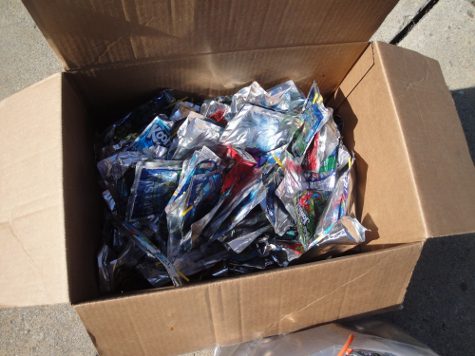 If you're looking for a way to teach your child a little eco-conscious activism, I highly recommend looking into Terracycle. Juice pouches aren't the only thing they collect, either.
Here's all we had to do:
1. Register an account online. This took 5-10 minutes.
2. Get the principal's approval. My son's teacher is 100% behind me, so that was painless and quick via email.
3. Make a box. This was a good craft project for the whole family and took about half an hour to an hour. One could easily just buy a plastic tub, too, but I am a fervent repurposer…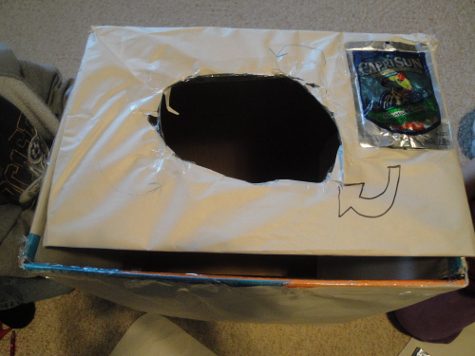 4. Type up a sign for the box. My job, 15 minutes.
5. Type a letter of explanation for the parent newsletter and communicate with the principal:
It's always great to get a 2-for-1 deal, especially when it helps our kids and supports Brown Elementary. Our school can get two benefits with one simple action: recycling drink pouches (such as Capri Sun) will earn money for Brown AND help save the Earth by reducing waste in our landfills.

There's a new box in the cafe for collections – please encourage your child(ren) to put any brand of drink pouches (the foil kind, not drink boxes) in the box. Removing the straw first will be a big help. If you send in juice pouches for classroom parties, help remind the teacher to send a student down to the cafe with the empties.

Thank you so much for participating! You can see more info at terracycle.com.
6. Collect the pouches. I pick up the kids one day a week anyway, so we've been grabbing the pouches at that time. Our box has been just the right size!
7. Here's the hard part, and the job we haven't done yet: counting the pouches. The Terracycle website tells us that 1,000 pouches weigh about nine pounds, so I'm pretty tempted to just go that route. Maybe we'll count the first 100 just to see what one hundred looks like, and then go by weight.
What are YOU going to do?
Whether you can find a Terracycle "brigade" to coordinate or not, set a goal to raise the green consciousness of your children in any way you can. It brought joy to my heart to hear my son pushing me, "Come on, Mom, we gotta get that box done – I see kids throwing away the juice pouches every day and it's such waste!"
He was pretty pumped that the first day we collected, the box was full after only four days of the program being school-wide. Saving the earth can be pretty exciting.
I'm just hoping I don't taste juicy foot in my mouth when we get to the "storing up five thousand juice pouches" part. Good thing we have a 2-car garage now!
Can you think of a way to help your child's school (or your workplace) be more eco-friendly?

Katie Kimball has been "green" since 5th grade when she read 50 Things Kids Can Do to Save the Earth. She remains slightly disappointed that she didn't save the whole thing back then, but now that she has 3 kiddos counting on her, she hopefully keeps plugging away. Katie blogs at Kitchen Stewardship about real food and natural living and is the author of Healthy Snacks to Go and other eBooks available for Kindle.