The following post is from Janel of Life with Lucie and Ella.: Share Memories with a DIY Photo Book
Summer is filled with wonderful photo opportunities, from family reunions and weddings to cookouts, baseball games, and sightseeing. In this digital age, it's too easy to leave our photos on the camera or the computer's hard drive. What's the point of capturing family memories with photos if we never look at them?
One way to enjoy your photos is to create your own photo books. Because they only hold 8 pictures, these homemade books are great for highlighting a single event. They are so simple that you can make several extra to keep on hand to fill with photos when you need them. Create a few to highlight your summer adventures, and keep them on your coffee table for your guests to peruse.
They are also inexpensive gifts. Make one for a friend after her wedding, or send one to Grandma. A photo book in the mail is sure to bring a smile to her face!
Share Memories with a DIY Photo Book
You'll need a large piece of thick artist's paper for this project. I used Canson Mi-Teintes paper because it comes in 19 x 25-inch sheets, is both acid and lignin-free, and is available in a variety of colors. One sheet of this paper is large enough to make 2 photo books that have five double-sided panels. Technically, this paper measures larger than 19 inches, but the excess on the edge has some embossed wording. If you don't mind this embossing, you can make an additional book with the remaining paper.
Also, pay attention to the orientation of your photographs. I like to use horizontal photos on one side of the book and vertical on the other.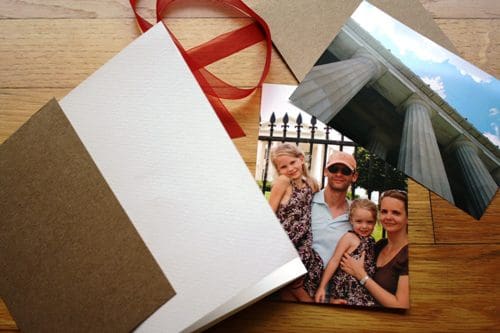 Supplies:
6.5 x 22.5-inch strip of thick, acid-free & lignin-free paper
4 x 6-inch piece of scrapbook paper for the front cover (optional)
4.5 x 6.5-inch piece of scrapbook paper for the back cover
Scissors
Ruler
Pencil & eraser
Scoring stylus or paper cutter with scoring blade
Craft knife & cutting surface
Ribbon, at least 29 inches long, with edges sealed by match to prevent fraying
Photo adhesive
Eight (4 x 6 inch) photographs
Acid-Free Pen
Scrapbooking paper, stickers, etc., for optional embellishments
Directions:
1.  Measure out your photo panels on the 6.5 x 22.5-inch paper strip. Each should be 6.5 x 4.5 inches. Use a pencil to mark along the edge of the paper where each panel fold should go. Use a ruler and scoring stylus to score each panel for easier folding. Erase any pencil markings you have made. (Alternatively, use a paper cutter with a scoring blade to score your panels.)
2.  Fold along the scoring marks in an accordion fashion. Place your folded strip on your work surface so the top panel will open like a book. This will be the cover of your book. If you wish, you can affix the 4 x 6 inch piece of scrapbook paper on top of this panel to create a cover.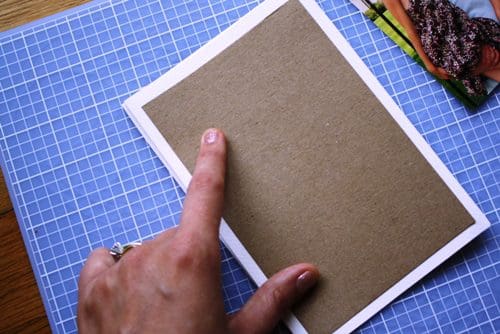 3.  Open up your paper strip so that it lays flat onto your cutting surface – the front cover will be face-down on the far left. Cut two vertical slits large enough to fit your ribbon in the center of the panel on the far right with a craft knife. Weave your ribbon through one slit, under the paper, and then up through the other slit.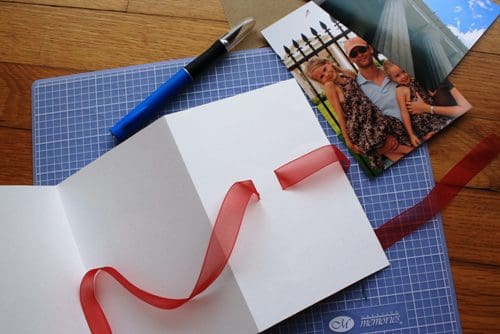 4.  Close the book – the cover should be on top, and the ribbon should be on the bottom. Tie the book closed with the ribbon. Flip the book over. If you wish, you can secure the ribbon with glue. With photo adhesive, affix the 4.5 x 6.5 inch scrapbooking paper over the ribbon panel to create a back cover.
5.  Open your book, and affix your photos with adhesive. Write the title and dates on the front cover. If you wish, use the back cover to journal about favorite memories of the event. Embellish with additional paper, stickers, etc.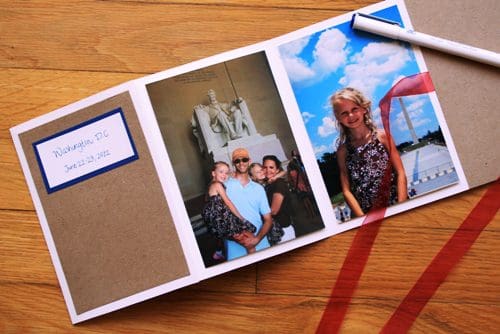 What event would you like to highlight in a DIY Photo Book?
Janel is a stay-at-home mom of two and a law school wife. Raised in a budget-conscious and do-it-yourself-minded family, she loves seeing something in a store or magazine and making her own version at home for less money. Janel blogs about motherhood, crafts, and recipes at Life with Lucie and Ella.