The cold weather is still here, which means it's time to start thinking about staying warm. It can be tough to figure out what to wear during winter, but don't worry – we're here to help! In this article, we will share some expert tips on keeping yourself warm and fashionable this season. So read on for advice on everything from coats to layers to shoes!
Buy a Coat
As you might expect, Coats are key to staying warm during winter. But not just any coat will do – you need something that is both stylish and practical. Luckily, many types of coats can be fashionable while also keeping you warm. These include cape coats, fur coats, cocoon coats, and more. When shopping for a coat, look for one made from a thick, insulating material like wool or down. And make sure it hits at least mid-thigh – the longer, the better! You'll also want to choose a coat in a dark color, as this will help to disguise any dirt or stains.
Wear Gloves
Another essential item for keeping warm during winter is gloves. Again, you'll want to make sure that your gloves are stylish and practical. When it comes to materials, wool and leather are always good choices. You can also go for something more unique, like fur or velvet. And make sure you get a pair that fits well, so you can actually use your fingers. Nowadays, you can find gloves made to work with touchscreen devices, so you don't have to take them off every time you want to use your phone. With a pair of gloves like this, you can stay connected even on the coldest days!
And a Scarf
Besides gloves, a scarf is another great way to keep your neck and face warm and is fashionable. If you don't have a scarf, consider investing in one. They come in different materials, so find one that will work with your coat type. If you want a pop of color to add to your outfit, go for a patterned scarf. But if you want something more subdued, a solid color will do the trick.
In addition to a scarf, you should also buy a hat to keep your head warm. Again, there are many options, so pick one that goes with your personal style. A beanie is always a good choice, but you can also go for a fedora or beret. With a hat, scarf, and gloves, you'll be ready to face the coldest weather in style!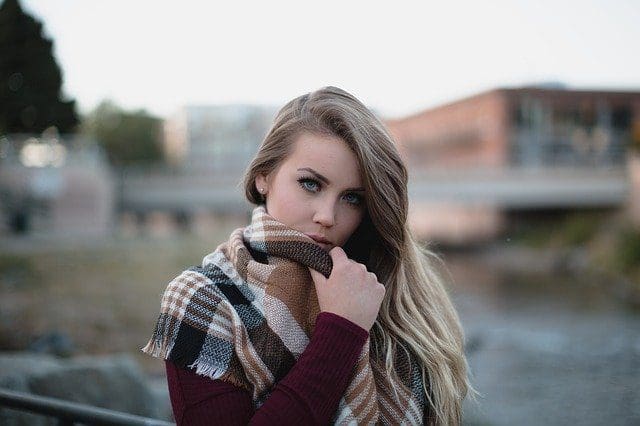 Invest in Those Pullovers
When it comes to layers, pullovers are a must-have. They come in all different colors and styles, so you're sure to find one that you love. And they're great for layering – just throw one on over a shirt or dress, and you're good to go. If you want something a little warmer, opt for a turtleneck pullover. These are ideal for chilly days, as they will keep your neck warm. You can also find pullovers with hoods, perfect for keeping your head warm on windy days. And the best of all – you can find them in most stores or even online. Just search for "pullover," and you'll be sure to find something you like.
Focus on Your Feet
One of the most important things to remember when dressing for winter is to focus on your feet. After all, they're the part of your body that is most likely to get cold. So make sure you have a good pair of shoes that will keep your feet warm and dry. Boots are always a good choice, but make sure they're waterproof if you plan on wearing them in the snow. You can also go for a pair of warm, fuzzy socks to wear around the house. Or, if you want something a little more stylish, try a pair of tights or leggings. Just make sure they're made from a thick material like wool or cashmere.
Love Layers
As we mentioned before, layers are key to staying warm during winter. But that doesn't mean you have to sacrifice style. In fact, layering can actually help you create a more stylish look. So don't be afraid to mix and match different items. A good rule of thumb is to start with a base layer, like a t-shirt or tank top. Then, add a sweater or cardigan on the top. And finally, finish with a coat or jacket. You can also experiment with different textures and materials. Just make sure that each layer serves a purpose – like keeping you warm or adding some style.
Go for Velvet
Velvet is one of the most popular fabrics for winter fashion. And it's not hard to see why – it's soft, luxurious, and looks great on everyone. If you're looking for a new jacket or coat, consider velvet. It's the perfect material for a winter night out. Just make sure you pair it with something simple, like a black dress or jeans. And don't forget to accessorize – a velvet headband or scarf will add a touch of luxury to any outfit.
Don't Pack Your Summer Clothes
Just because it's winter doesn't mean you have to pack away all your summer clothes. In fact, many items can be worn year-round. So instead of ditching that cute summer dress, try pairing it with a turtleneck. Many summer clothes can actually be worn in winter – you just have to get a little creative. And who knows, you might even find that you prefer your summer clothes in the winter!
These are just a few of our favorite tips for staying warm and fashionable this winter. So don't be afraid to experiment with different styles and looks. And most importantly, have fun with it! Winter fashion is all about finding what works for you. So experiment and find your personal style. After all, that's the best way to stay warm and look good at the same time.
Featured Image by Ekaterina Ershova from Pixabay