If you're ready to get over the winter blues, the spring 2022 trends are here to help distract you from the cold weather. As spring means new beginnings, it's time to think about warmer-weather fashion that will uplift your mood. From bold and bright outfits to miniskirts and crochet bags, give yourself the freedom to explore a variety of different styles. That being said, it's not too early to start adding spring trends to your list.
Did you know that low-rise jeans and micro-minis are making their comeback this season? Look below to find a few more trends that are recommended by fashion gurus and the personal stylist you might consider adding to your list for spring 2022.
Graphic tees and full-length jeans
This pair never goes out of style. No matter the season and what direction fashion styles go, tees and jeans will always be part of everyone's outfit. They're the perfect go-to choice and can be combined to fit any occasion. Although straighter denim with crop and ankle-length has been mainstream over the past few years, it's time to switch to full-length styles this year.
Pairing jeans with shirts and blazers delivers a laid-back style everyone can be comfortable with. Be bold and express your interests and hobbies through your fashion style. For example, if you love nature, you can wear a plant shirt and show everyone your cool and wicked style. Graphic tees can be worn anywhere. You just have to know how to mix them right. A clean look will make you feel comfortable and confident no matter the destination.
Statement necklaces
The outfit is nothing without accessories. Statement necklaces, for example, allow people to express themselves and their personality through jewelry. They're bold and unique choices that will catch anyone's eye. However, you don't necessarily have to wear those that everyone wore in the '90s. Today, they're tweaked just a bit, so they still feel fresh. People wear chunky chain necklaces at different lengths and sometimes combine them with different pendants.
Note that pearls are also having a moment this spring. They're timeless pieces you can combine even with chain necklaces and will still look fresh and cool. Paired with top grade pearl earrings, they'll deliver an elegant look and add a timeless touch of luxury to any occasion. In recent years, pearls have become everyone's favorite, from young to old, men or women.
Y2K
The Y2K style is back, so you can live your best aughts-style life in miniskirt suits, daringly-low-rise bottoms, or wail tail pants. Dresses and halters tops are also big this spring, as well as cutouts. In addition, you can go with playful jewelry such as multicolored beads, and you can layer them with pearls, as they're always a trend. If you're feeling nostalgic and want to see whether you can still rock this style, don't hesitate to try it out.
Note that the skirt suit may not be as you remember it, but slightly shorter. It has gone a drastic transformation, and brands are taking the liberty to experiment with this style. As for cutouts, it's a continuing trend from 2021, proving that designers are keen on highlighting parts of our bodies we usually try to hide. It's a risk-taking fashion style, and if you're willing, give it a go.
Bright colors and crochet bags
Instead of the neutral color wardrobes we've seen in recent years, we can now expect to see a more bold and bright approach to outfits. From pops of color, especially in bags and footwear, to head-to-toe color block looks. The spring 2022 trend is bringing a bit more color to uplift everyone's style and mood. Purple and green may be especially big this season, so if you enjoy wearing bold colors, this is your season.
Crochet and knitted bags have a summery vibe, and they're going to be hot again this season. Depending on your style and outfit choice, you can choose small and compact or big and slouchy. Crochet bags are also a great way to add texture to your outfit. Instead of settling for a simple leather bag this spring, go for bold and bright bags that will elevate your look.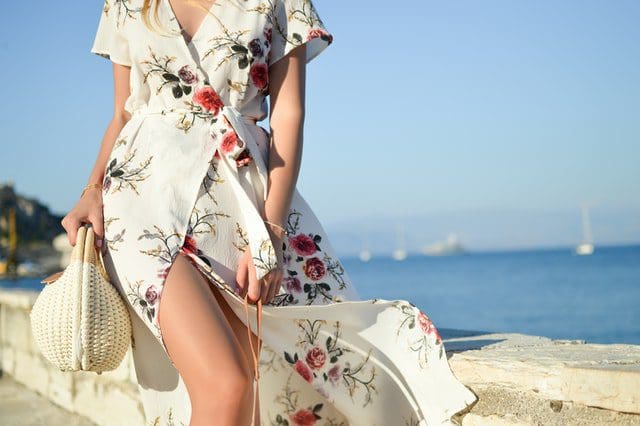 Sheer and glitter
Sheer outfits are another addition to this spring's fashion trends. Sheer dresses have dominated this season's runways, from chiffon to gauze fabrics, layered with simple two-pieces underneath. This trend sends a message that less is more, so if you want to be bold, you can wear a sheer shirt for your next evening out.
Along with this, you can also consider adding glitter to your look this spring. Glittering satins, sequins, and wet-metallics are a great way to add an extra flair to your outfit. Depending on your taste, you can try a rock'n'roll style or a disco princess style. The possibilities are endless, so don't be afraid to shine bright in these bold combinations.
Final thoughts
Seeing that spring is just around the corner, you can start to make your list of outfits you'd like to try this season. Get inspired by the list above, and don't be afraid to be bold and daring. Spring is all about being different and trying things for the first time. Make a combination of a couple of styles, and you might just find your own.  
Featured Photo by Godisable Jacob from Pexels