Finding the right pair of shoes for your feet can be a challenging task. Feet come in all shapes and sizes, and on top of that, there are differences within sizes and those shapes. Thankfully there are so many types of shoes that everyone can find their perfect style and fit. Even though this is a possibility, it can be a bit overwhelming. Below is a little breakdown of the three most popular shoe styles to help you decide which is best for your feet. 
Styles: 
Tennis Shoes

: Also known as sneakers, tennis shoes are the best for most people. Since they go around the whole foot, they provide ample support, protection, and comfort. You can wear sneakers anywhere; they'd be a great shoe choice. Not only can you wear them anywhere, but you can also wear them during any activity, whether it's walking, jogging, or doing whatever else you love! 
It could be hard to find shoes for flat feet if you are someone with flat feet. There are many shoes out there for you, you just have to look in the right place. One of the best places to look for shoes for flat feet is Marks & Spencer (M&S). M&S has a wide selection of shoes that provide good support for flat feet, as well as a range of styles to choose from. Plus, if you are a student, you can take advantage of their m&s student discount to get even better savings.
The best way to figure out which sneaker fits you is by going to a specialized shoe store and taking an in-depth measurement of your foot. You can check some retro style shoes  These scanners help you figure out the exact size and width of your foot, as well as your arch height, ankle thickness, and much more!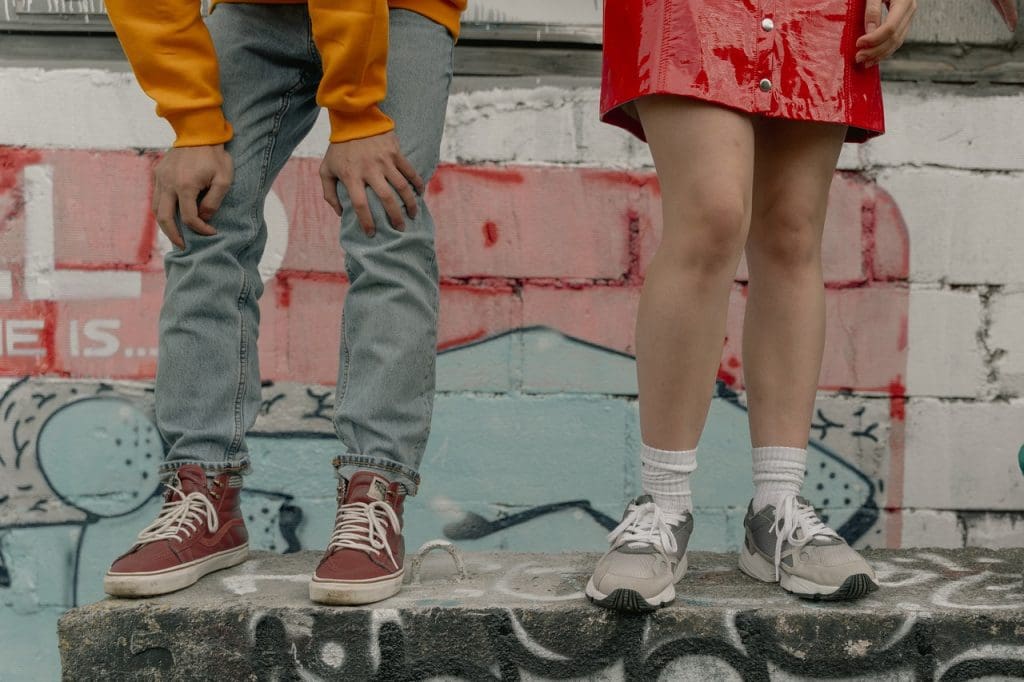 Another great option for tennis shoes is adding inserts. While these aren't for everyone, they can be the extra boost of support or cushion that your foot needs. There are dozens of options available that cater to every type of foot. These are definitely worth checking out, especially if you're looking for more arch support.
Boots

: While not as popular as tennis shoes, boots are another great shoe option for many people. Usually only worn in cooler weather, boots provide the same level of protection, support, and comfort as tennis shoes, but since they're taller and thicker, they provide more warmth. You can find any style of boot too. No matter if you're looking for a utility boot or simply a stylish boot to wear on a date, you can find whatever you're looking for. If you're looking for style, ugg boots are definitely a great option. They're also great because, just like with tennis shoes, you can add inserts to the soles if it's necessary. 

Sandals

: The third type of shoe that is also extremely popular are sandals. There are several different styles of sandals, as that's just the umbrella term for these open-toed shoes. Out of all of the sandals, the best and most widely worn style are slides. Slides are another perfect shoe for people, especially for those who love wearing supportive shoes but want their feet to be able to breathe. They're usually form-fitting to some degree, so they can provide arch support (without the addition of inserts), they're great for walking around, and they're very stylish. Similar to tennis shoes, you can find any color and pattern of slide sandals now. Wearing bright colors, like 

orange slides

 or even some patterned slides, is particularly popular this season. 
Even though there are many styles of these shoes that you can wear, it's important to have a basic understanding of which shoes will be the best for your feet in terms of comfort and style. Your feet are unique and deserve special attention. Educating yourself on how to best find your best fit will be beneficial for your health and comfort in the long run.  
Featured Photo by Dương Nhân from Pexels