Skin is your newborn baby's first line of defense against the outside world. That's why it's so important to choose gentle but effective products. Your baby's skin is extra sensitive, and you want to ensure it stays that way! Choosing the right products for your youngster's skin can be challenging if you're a new parent or have a little one with sensitive skin.
You can keep your baby's skin soft and smooth for years with the right products. We're here to help! We've compiled a list of our favorite baby products for newborn skin and included information about why we think they're so great. We hope it helps you find the best products for your baby's skin!
Diapers:
BabyCozy Bouncy Soft Diaper: 40% off when you use CODE: BBA30 
Since babies spend much of their time wearing diapers, a high-quality one is key for maintaining their skin's health. BabyCozy Bouncy Soft Diapers are made from high-quality materials and advanced manufacturing techniques that make fabric feel softer than ever before. Without additives or chemicals, these diapers are super safe without the risks of allergic reactions or rashes for your little one.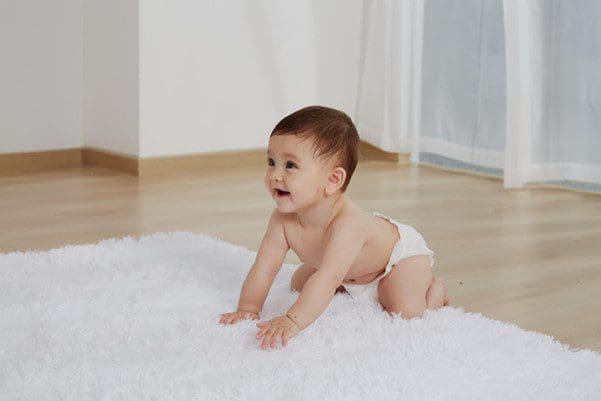 The diapers are also super soft thanks to 0.8D fabric x 10 microns fiber. And with millions of micropores, there are fewer friction points between your young one's skin and the diaper, so there will be less skin irritation.
This product features a cocoon pattern for less friction to keep your baby comfortable. They'll move around freely without chafing or irritation!
Baby Wipes
BabyCozy Coconut NourishWipes: Save 30% off Code: BBW20
What's the best way to clean and nourish your baby's skin?
The answer is simple: BabyCozy Coconut Nourish Wipes.
The first thing you need to know about our wipes is that they're made with 100 percent natural plant fiber. This means they won't irritate your baby's skin or cause it to break out. They're also free of chlorine residue and additives to leave your little one's skin feeling soft, not sticky.
These wipes will help nourish your baby's skin and clean it. They contain natural plant extracts, including:
Chamomilla Recutita flower extract

Vitamin E

Amamelis virginiana extract
These extracts help clean and nourish your baby's skin. They're hypoallergenic, so they won't irritate your child's delicate skin. With a light scent that smells like a tropical vacation, use these wipes on your baby without worry!
Shampoo
Cetaphil Baby Wash & Shampoo with Organic Calendula
Baby's skin is sensitive and needs products that are gentle and nurturing to their skin. Cetaphil Baby Wash & Shampoo is made with a calming formula that's gentle enough for even newborns.
The wash helps soothe your baby's skin due to its great ingredients, like calendula extract and oatmeal extract. It's great for babies with eczema, cradle cap, and dryness due to its moisturizing properties.
Lotion
CeraVe Daily Moisturizing Lotion
When choosing lotion for your baby's body, look for one easy to apply onto damp skin without leaving residue behind. Look at the product's ingredients list carefully to ensure they are gentle on the skin while still providing moisture.
The CeraVe Daily Moisturizing Lotion for babies is one of the best options for your Newborn skin. It contains ceramides, which help restore the skin's naturalprotective barrier. You can use it on every part of your baby's body, including their face, hands, and feet (provided they are not allergic).
We love the hypoallergenic, fragrance-free, and non-comedogenic formula, so you don't have to worry about it causing breakouts or clogging your baby's pores.
It comes in a convenient pump applicator, so you can easily apply the lotion. And just like all CeraVe products, you know that this product is safe for your baby's delicate skin thanks to the pediatrician-recommended formula!
Ingredients in babies skincare should not include artificial fragrance, parabens, or phthalates, since they can be irritants for young children.
Soap
Sebamed Baby Cleansing Bar
Babies' skin needs gentle and nurturing products. Sebamed Baby Cleansing Bar helps you clean away impurities and dirt from your little one's skin without leaving harsh residue that irritates sensitive skin. It uses ingredients like panthenol and camomile, both known for their soothing properties.
It is formulated with Refatting compounds and a moisturizing complex with vitamins, wheat germ oil, and amino acids. The soap bar cleanses without drying out the baby's delicate skin, leaving it soft, smooth, and healthy.
To summarize, babies are particularly sensitive to the world around them. At BabyCozy, we understand the best baby products for Newborn skin are those that respect the delicate nature of their skin. You don't want to choose a product that will irritate your baby's skin, but you also don't want something that isn't doing the job right. They should contain gentle ingredients and be designed to be easy on the eyes and skin.
Happy parenting! Enjoy this special time with your baby.
Featured Photo by Dominika Roseclay: https://www.pexels.com/