Each week at our Classical Conversations homeschool group, we have a "family presentation," and one of the families in our group shares a little bit about themselves — their heritage, a hobby they enjoy, a trip they've taken, etc.  It's really a fun way to learn all kinds of interesting things, and it's one of my favorite parts of our weekly group!
A couple of weeks ago, the Genda family shared their family's advent wreath tradition. I was really intrigued as they described how they celebrate the first season of the Christian calendar on each of the four Sundays before Christmas, lighting candles, reading the Christmas story and a devotional, sharing a meal, giving little gifts to one another, and really focusing on the season of advent.
Getting the supplies
The girls were also excited about the tradition, and that weekend we headed to Hobby Lobby to put together our own traditional advent kit!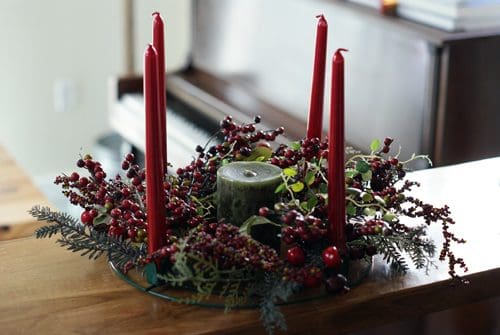 I say "traditional" advent kit because we're celebrating each of the four Sundays of Advent, but I've taken liberties with the tradition. Traditionally, there are just four taper candles — three violet and one rose — although some people add a white candle to the center for Christmas Eve. However, we decided to use colors that complement our holiday decor since the wreath has a prominent place on our breakfast bar.
I was excited to find a round hat box at Hobby Lobby that was the perfect size for our advent kit so that everything could be safely packed away in our Christmas boxes each year. Inside my kit, I included an advent candle holder and wreath, four taper candles, 1 larger candle for the center of the wreath, and this printable advent devotional, which the Genda family wrote.
This year's advent starts on December 2nd, and our plan for each Sunday is to read the advent devotional and light the candle(s) for the week. Then we'll sing a few carols and eat a nice dinner together.
Should gifts be included?
I was torn on whether to include gifts as part of our celebration because I certainly don't want that to become the focus, but we decided to do a little thoughtful gift each week as well instead of saving all of our gifts for Christmas morning. The first week the big girls will be getting their first real Bibles, with faux-leather cover and all, and the little girls will each get a Bible storybook. We're also going to do warm fleece scarves, a homemade treat, and their annual ornament. On Christmas Eve, they'll exchange the gifts they choose for one another.
I'm looking forward to slowing down and focusing on advent each week with a bit of tradition and reverence. It's too easy to fly through the holidays each year, and I think this will help us savor the season a little bit more!
Click here to download or print the advent devotional. Cut along the dotted lines and then staple the pages together along the left side to create a little booklet to read from each week.
Related Projects:
Join us as we celebrate 101 Days of Christmas with new DIY projects, gift ideas, traditions and more every day from now through Christmas!