There are a whole host of reasons why you might be considering retraining for a new career right now. Perhaps you're a stay-at-home mom who's considering going back into the workplace now your children are older but aren't sure of the career you'd like to return to. Perhaps the recent COVID-19 pandemic has caused you to rethink your current job role, and you're looking for something geared more towards helping others. Maybe you want to put the skills you've learned over the years as a mom towards supporting children. A career in school counseling is perfect for moms who want to return to a position where they can help others.
Whatever your motivations, studying for a Master's in School Counseling and working towards becoming a school counselor could be a great choice for you. It's a position that fits well around family life, doesn't require too much time to retrain in, and uses talents and characteristics that, as a mom, you probably have in spades! It's also a job that the US Bureau of Labor Statistics predicts is only set to grow over the next decade. This means that retraining in this area can bring you high employability, job security, and financial stability – all of which are super important for looking after ourselves and our families.
In this post, we'll tell you everything you need to know about being a school counselor and studying for a Master's in School Counseling alongside your existing family commitments. Plenty of moms successfully balance going back to school with raising their kids, and there's no reason you can't too!
What is the role of a school counselor?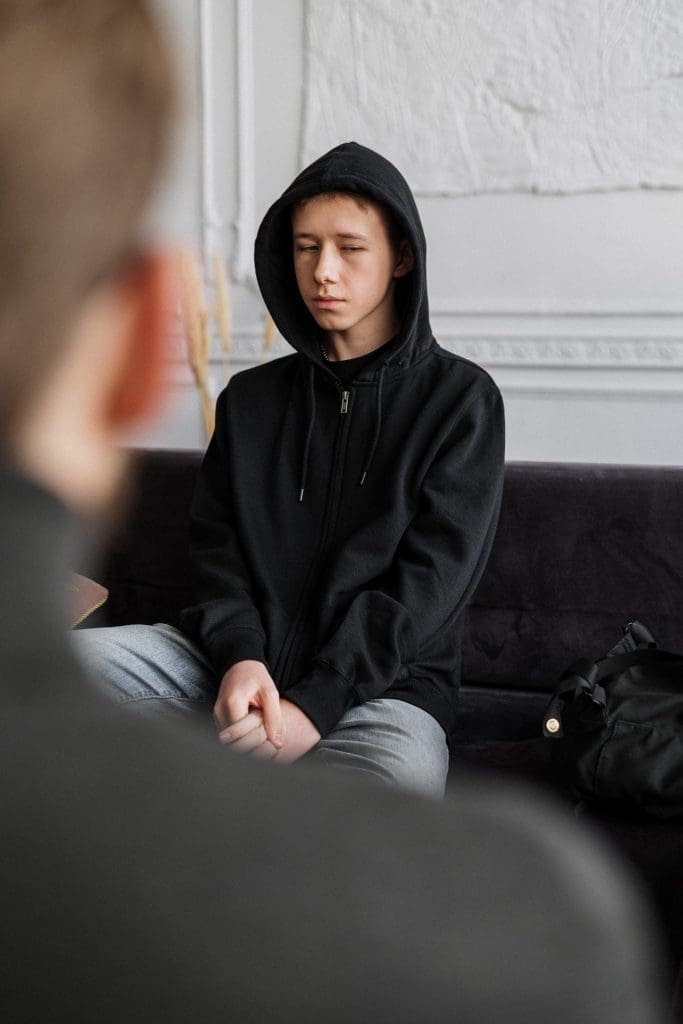 A school counselor is a vital part of the country's education system. They provide students with advice, guidance, and support in a non-judgmental way to help them have the best possible school experience and achieve their full potential. It's a great job for moms because it enables you to have a meaningful impact on the lives of other children besides your own, including those who are less fortunate than your family. This makes it an extremely rewarding career to have.
You may well have encountered a school counselor or two at your own children's schools and probably have a reasonable idea of what the job broadly entails. However, the position can vary quite a bit depending on where you work and what age the students in your care are. Plus, the range of services a school counselor provides are numerous. You'll learn this all in much more detail when studying for a Masters in School Counseling, but what follows is a general overview of the types of tasks and responsibilities you can expect to have if you decide to train in the role.
Provide students with academic support
This involves working with students at an individual level to help them achieve their best academically, whether supporting students who are struggling or helping those who are overachieving to challenge themselves even further. You'll use various assessment methods to evaluate students' current abilities, help them understand where their strengths and weaknesses lie and enable them to develop key study habits and skills. You'll work on things like realistic goal setting and study plans, as well as for deciding which classes to take. For students in high school, you'll also help them with college and scholarship choices and applications.
Provide students with career guidance
As well as thinking about a college, you'll also help students with their career plans. This could be by assisting them with writing a resumé or completing job applications and discussing their career aspirations and how best to achieve them. This might involve advising them on which classes to take or developing key life skills such as time management and organization. 
Provide students with emotional support
It's not all about academia, though. A school counselor is also there to help students navigate any social problems they have, for example, dealing with bullying and issues around relationships, drug misuse, and alcohol consumption. You will be there for students to talk about any worries or concerns that are weighing on their minds. This could involve mental health issues such as depression, low self-esteem or anxiety, or family problems outside of school. You could also find yourself mediating any conflicts that arise between students and members of staff.
Carry out administrative tasks
As with most jobs, there is also some administration involved in the role of a school counselor. You'll need to maintain student records and possibly also have input on the development of school policies. You might also find yourself dealing with students' referrals to other resources or personnel and speaking to families regarding their son or daughter's progress and how best to help them succeed. 
What skills are needed for school counseling?
If reading the above has sparked an interest in a school counselor's role, that's great! Of course, you'll need to develop many professional skills to succeed in the position. Many of these will be covered in your Master's in School Counseling program, including counseling techniques, legal considerations, ethical issues, and psychology theories. However, some soft skills are extremely helpful for the job. Luckily for us, the vast majority of these are ones that moms naturally develop over the years! For example:
The ability to communicate with children of all ages, from elementary school up to college students

Interpersonal skills for working with teachers, parents, administrators, and others

The ability to 

listen

 actively to what students are telling you

The ability to perceive what they are not saying or what they are communicating through their tone of voice and body language

Honesty and integrity, so that students trust you, respect you, and feel comfortable opening up to you about difficult or embarrassing topics 

Compassion and 

empathy

 to enable you to understand what students are going through and help them to the very best of your ability

Patience for dealing with difficult or closed-off students

Adaptability and flexibility for those times when a student drops by unexpectedly or a situation suddenly arises that needs your input

Organizational, time management, and multitasking skills to handle a large number of students with a wide range of issues and provide a wide variety of different services

Leadership skills for taking control of complicated or tough situations
Just like being a mom, the job of a school counselor can be challenging and under-appreciated at times, but also one of the most rewarding.
How do I retrain as a school counselor?
To become a school counselor, you'll first need a Bachelor's degree, which can usually be in any subject. Then you will need to take a Master's in School Counseling degree, which lasts between two and three years on a full-time basis, or three to four years on a part-time basis. Options are available for both on-campus and online study, meaning it's perfectly possible to fit the program around your existing commitments to your family. There's no need to move across the country or be in college for eight hours a day!
Most programs will involve a mixture of compulsory and optional modules. Some of the topics you might cover include developmental psychology, group counseling, counseling for college, adolescent psychopathology, counseling techniques, mental health and substance use, roles and responsibilities of the school counselor, personality theories, and much more.
Once you've graduated from your Master's in School Counseling program, you will need to complete a certain number of internship hours in a real-life school setting. This will be under the guidance of a certified school counselor, enabling you to get plenty of valuable experience. The final step will be specific to the state you want to work in but usually involves passing an exam and background check.
Will it be hard going back to college for a Master's in School Counseling?
If you haven't studied for a long time, the idea of returning to college as a mature adult with a family can be intimidating. However, there's no need to worry as all good educational institutions have plenty of support services in place to help. Studying on a part-time basis can be a great option if you're worried about having enough time to fit in the reading, classes, and assignments. Online learning options enable you to study from the comfort of your own home at a time and pace that suits you.
If you're feeling particularly apprehensive, you could always try signing up for a short course before committing to a Master's in School Counseling. Many universities offer these for free, and they can be a really helpful way to test the waters. Plus, if you choose one in a topic related to psychology, sociology, counseling, or education, you may find that you have a bit of a head start when you begin your degree!
Tips for balancing study with family life
As a mom, you may be worried about the feasibility of balancing studying for a Master's in School Counseling alongside your existing family commitments. Luckily though, it is more than possible to do so, and there are many websites out there packed with tips and tricks to help make combining the two easier. Here are some of our favorite suggestions:
Make a schedule – 

and stick to it! Think carefully about your current schedule and where you might be able to carve out time for studying. It doesn't matter if it's half an hour a day or two hours twice a week. Just make sure that you block off that time for studying and don't allow anything else to intrude on it. Of course, it's equally important to ensure you still have quality time with your kids, so include that on your schedule too, and don't allow anything to take it away from you.

Plan ahead. 

As soon as you get the timetable for your Master's in School Counseling, make a note of your assignment deadlines, exams, in-person residencies, and other important events. This will enable you to schedule more time for studying when you need it, book babysitters well in advance if necessary, and not have any last-minute surprises!

Make a to-do list. 

Make sure you're aware of all the reading, assignments, and other tasks you have to do for your course, and plan out how you will tackle them. Breaking tasks down into manageable chunks can make them feel less overwhelming and give you a sense of achievement as you tick them off your list. Having 

a list

 also makes it less likely that something will be missed! Set realistic goals at the start of each week, and work steadily towards achieving them.

Ask for help if you need it. 

Colleges are great at providing support services for their students, and there's no reason to be ashamed of using them. Let your professors know that you're balancing your studies with raising a family and investigate what help is available in advance just in case you need it. Connecting with other student moms can be a great way of having a support network too.

Put your wellbeing first. 

There's no need to drive yourself into the ground and make yourself miserable! Set aside some 'me time' every week to chill out and recover, whether it's a yoga class, dinner with friends, or time alone with a good book. Stress has a 

negative impact on both our physical and mental health

 and our productivity, so it's important to sleep well, eat well, exercise, and relax!  
Set aside a designated study space. It's amazing how helpful this can be! It enables you to stay organized by having all your books, notes, portable stages, and other materials in one place, plus signals to your brain when you sit down that it's time to study. More than that, it will also send a signal to your family, so they know not to disturb you while you're studying! It doesn't have to be a whole study room; any quiet and tidy space will be sufficient.
Featured