The following post is from Amy of Simply Sugar & Gluten-Free:
I'm one of those moms who will bring a grass-fed, organic, nitrate free hot dog to a play date because I feel better about my son eating real food, or as close to real food as a hot dog can be. And, I've found myself up late at night making gluten-free, dairy-free cupcakes and snacks so he's got something that's safe, tasty and nutritious when we're at a birthday party.
I've quickly learned how important snacks are, even when we're just around the house. Nate eats a little here and a little there. And, one day he'll happily eat Cinnamon Oat Brown Rice Crispy Treats and the next day he throws them on the floor. When I have snack options for him, our days go better.
Nate's not anywhere near school age but for so many families school is right around the corner. If you're new to allergy friendly food or if you're a veteran, there are great recipes here for you to try. And, I've sourced these recipe from some of my best friends, who also happen to be the best allergy friendly cooks around. You can put your apron on with confidence, knowing that these recipes will not only work for you, but they'll be delicious as well.
For those of you who don't need to eat an allergy-friendly diet, don't dismiss these recipes! They're packed with healthy ingredients, simple to make, and will have your kids asking for more.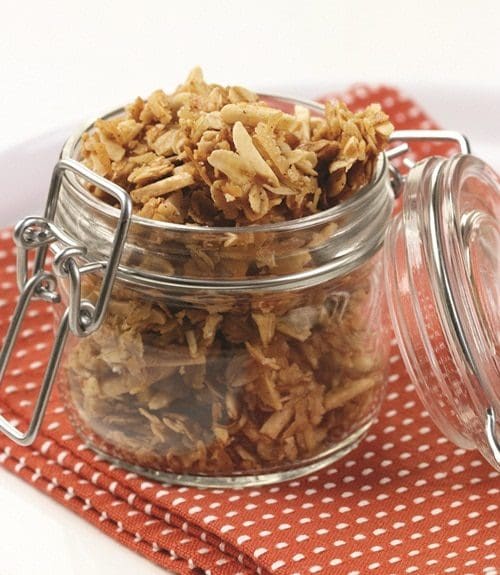 Gluten-Free, Dairy-Free Snack Recipes
Apple Coconut Snack Balls
Fig & Pumpkin Seed Snack Bars
Granola Oatmeal Cookie Bars
No Bake Peanut Butter Chia Chocolate Chip Cookies
Double Chocolate Zucchini Bread
Grain-Free, Dairy-Free Snack Recipes
Sundried Tomato & Pepita Pesto
Buckwheat Breakfast Cookies
Honey Graham Dippers with Vanilla Cashew Frosting
Sunflower Seed Butter – I love this recipe because it's nut-free and lets you control the sweetness level, unlike the stuff off of the shelf.
Veggie Jims – A vegan slant on Slim Jims
Chewy Chocolate Vegan Date Brownies
Printable Lists
50+ Allergy Friendly Lunchbox Ideas
What are your favorite allergy-friendly snacks?

A stay-at-home mom, wife, and passionate cook, Amy strives to make each meal healthy and delicious. When she's not doing laundry, dishes, or caring for her son, she plays around with food in the kitchen developing new recipes, which she shares at Simply Sugar & Gluten-Free. Amy also publishes The Balanced Platter and authored the book Simply Sugar & Gluten-Free: 180 Easy & Delicious Recipes You Can Make in 20 Minutes or Less.