The following post is from Janel of Life with Lucie and Ella.: Get Organized with a DIY Memo Board Center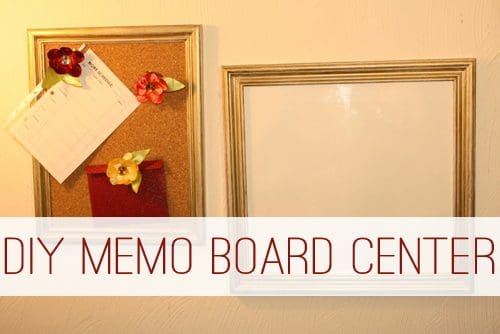 I'm not going to lie. Keeping my workspace clean is, shall we say, a challenge for me. My desk is often covered with receipts, to-do lists, notes, and other miscellaneous papers. Well, I decided that it was time to take action and get things a little more organized by creating a custom Memo Board Center for my workspace.
I headed to the thrift stores to see what treasures I could find for my project. I scored two rather outdated pieces of artwork for under $5 in total. With some basic craft supplies and some leftover cork from my woven felt coasters, I transformed some old frames into something pretty AND useful.
Rather than just hanging them, I decided to spruce up the memo boards a bit with a DIY envelope to hold my receipts and some pretty push pins. You could also add some wall words or a special wall hanging in the grouping to add a bit of encouragement to your workspace.
How to Make a DIY Dry Erase Board & Bulletin Memo Board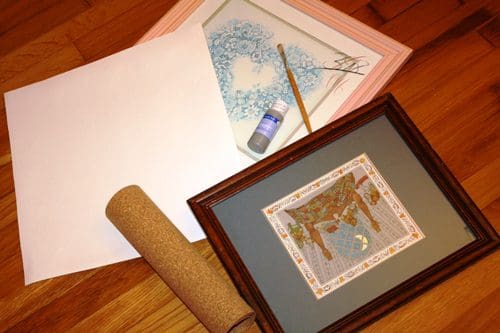 Supplies:
thrift shop picture frames in desired sizes
sandpaper
craft paint or spray paint
paintbrushes
poster board
rolled cork
iron & ironing board
scissors
Directions:
Give your thrift shop picture frames a new look with a coat of paint. First, clean any dirt and grime off of the frames. If you've got wooden frames, use sandpaper to rough up the surface a bit. Remove any dust with a damp paper towel and dry thoroughly. Paint as desired with spray paint or acrylic craft paint. (For mine, I gave them a coat of white acrylic paint to cover up the old color, followed by a distressed/rustic finish with gold paint.) Allow to dry.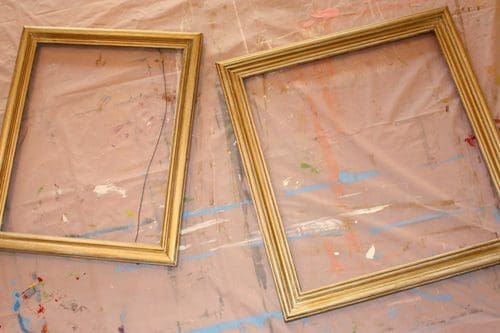 For a dry-erase board, open the back of the frame and remove any artwork. If you want a plain white dry-erase board, cut a piece of white poster board to fit inside the frame. If you would like a dry-erase board to hold a to-do list or calendar, a design that on your computer and print it. For additional flair, you can mount it on colored scrapbook paper. Once that is done, place it inside your frame either instead of the poster board or in addition to it. Replace the backing and secure it.
For a bulletin board, open the back of the frame and remove any artwork and the glass. Unroll your cork onto an ironing board and give it a few passes with a hot iron. This will remove any curl to the cork. Measure and cut the cork to fit within the frame. Place it in the frame, replace the backing, and secure it.
Hang your bulletin board and dry-erase board securely on the wall. For extra security, use L-brackets to mount them to the wall.
How to Make an Envelope (for receipts, coupons, etc.):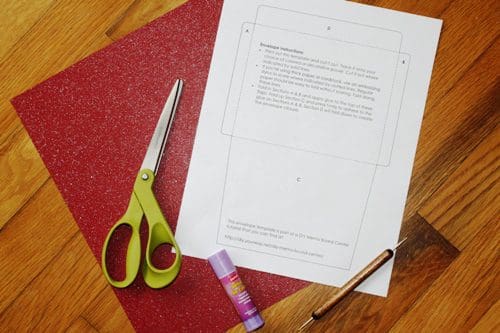 Supplies:
scrapbook paper
scissors
scoring tool & ruler
glue
Directions:
Print out the envelope template and cut it out. Trace it onto scrapbook paper and cut it out. If your paper is thick, use a scoring tool and ruler to score along where indicated by dotted lines on the template. Fold along the dotted lines.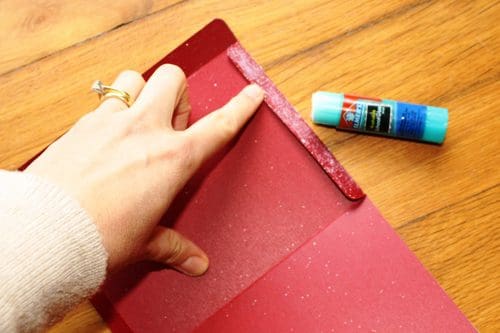 Fold in sections A & B and apply glue. Fold up section C and press firmly to glue it to sections A & B. Use a tissue to remove any excess glue. Fold down section D to make the closure for the envelope.
How to Make Floral Push Pins: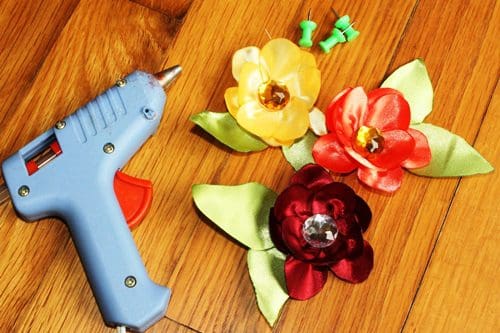 Supplies:
Directions:
Create satin flowers according to this DIY tutorial. Apply hot glue to the back of the push pin and apply it to the backside of the satin flower. Hold securely until cooled.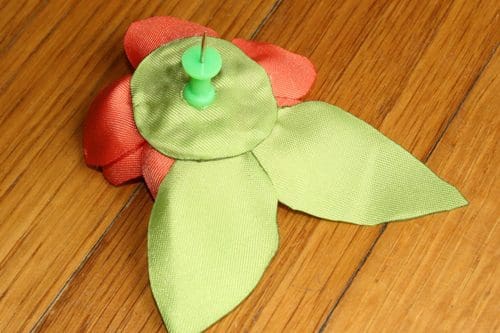 How do you organize your workspace?

Janel is a stay-at-home mom of two and law school wife. Raised in a budget-conscious and do-it-yourself minded family, she loves seeing something in a store or magazine and making her own version at home for less money. Janel blogs about motherhood, crafts and recipes at Life with Lucie and Ella.