Our master closet has been a nursery for as long as we've lived in this house (even though Jackson has never actually slept in there!), and we have two large Ikea wardrobes in our bedroom instead. The one downside of these wardrobes is that they often leave our clothes smelling stale. I'm not sure what it is about them, but the towels in our bathroom wardrobe have the same issue.
Although this idea is perfect for a little gift as part of a gift basket — paired with other pretty things like a journal and mug or a pampering collection of sugar scrub, shaving cream, and a new loofah — I'm also really looking forward to adding sachets to our wardrobes to help with the wardrobe-y smell!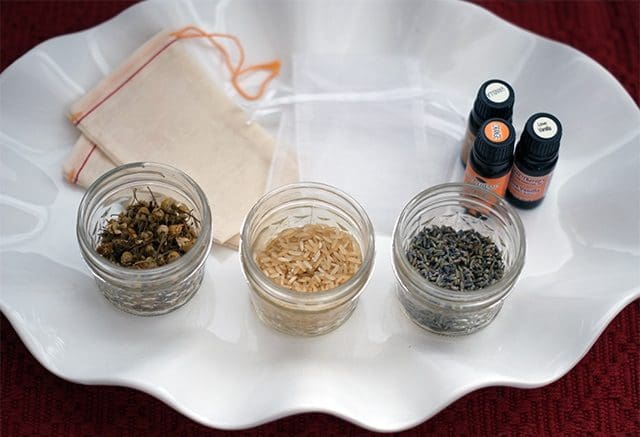 Supplies:
2 tablespoons base material (dried lavender, chamomile, jasmine rice, etc.)
3-5 drops of complementary essential oils
muslin or organza bags
Directions:
In a bowl, combine the base material with the essential oils. For example:
dried lavender + 5 drops vanilla
dried chamomile + 5 drops orange
jasmine rice + 3 drops vanilla & 2 drops ylang ylang (or 5 drops of Plant Therapy's Love Vanilla blend)
Mix well with a spoon until the essential oils are well distributed.
Using a spoon or a funnel, transfer the mixture to the bag. Tie the ribbons securely.
TIP: Place the sachets inside a treat bag and secure that with a ribbon to keep the scent contained until you give the gift!
Projects from the archives:
Join us as we celebrate 101 Days of Christmas with new DIY projects, gift ideas, traditions and more every day from now through Christmas!