No one wants to look back on their wedding day and regret what they wore, or even worse, feel that their style hasn't aged well. With so many choices, it might be difficult to find the perfect dress that you will not only adore but will also be timeless for decades.
Many people make a common mistake of focusing only on choosing the right dress and forgetting them as important accessories. With just a couple of minor modifications, which in fact are major when it comes to the whole look, everyone can achieve the timeless and stunning look in their wedding day photos. 
Simplicity is key
While 'trendy' bridal apparel is exciting and fashionable at the moment, it can date the look of your wedding day. If you try to maximize the additions to the dress, you may end up with a piled-up dress that never looks as good as you planned. You should always try to look as minimal as you can to give an accent to yourself, not just the dress.
A classic white dress with a lovely white veil and a personal embellishment will never go out of style. Your traditional look can be enhanced with statement hair flowers or a delicate silver necklace. Don't go overboard with bold or statement makeup, as this might make your face too accented and make you lose the harmony of the whole look. Try to keep your wedding day look as balanced as possible with your dress, makeup, and accessories.
Accessorize according to the dress
Accessorize with pieces you may see yourself passing down to your daughter or granddaughter as heirlooms. But, don't just choose jewelry that you may find pretty. Keep in mind that different dress materials should be complemented with different designs of necklaces and earrings. For example, pearls can match almost every type of dress, but for your wedding day, match pearls with lace to bring off the most classic and timeless look. If you want your dress to be silky, try to complement delicate silver pieces that give off statement energy. 
A tiny headpiece can be worn to match earrings and a necklace, but it should be kept understated. Finish with a monogrammed handkerchief that will serve as a lovely keepsake. Get an over the shoulder little bag that will hold your most prized possessions on your wedding day. Make sure to match the bag according to your look, and you are ready for the most important day of your life.
If you want to accent your hairstyle, you can ask your hairstylist to put your pearls in all the right places in your hair. Pearls are a timeless way to make your wedding look stand out. Incorporating pearl hairpins and clips will make your hairdo stand out in the most classy way and bring out the best of your look.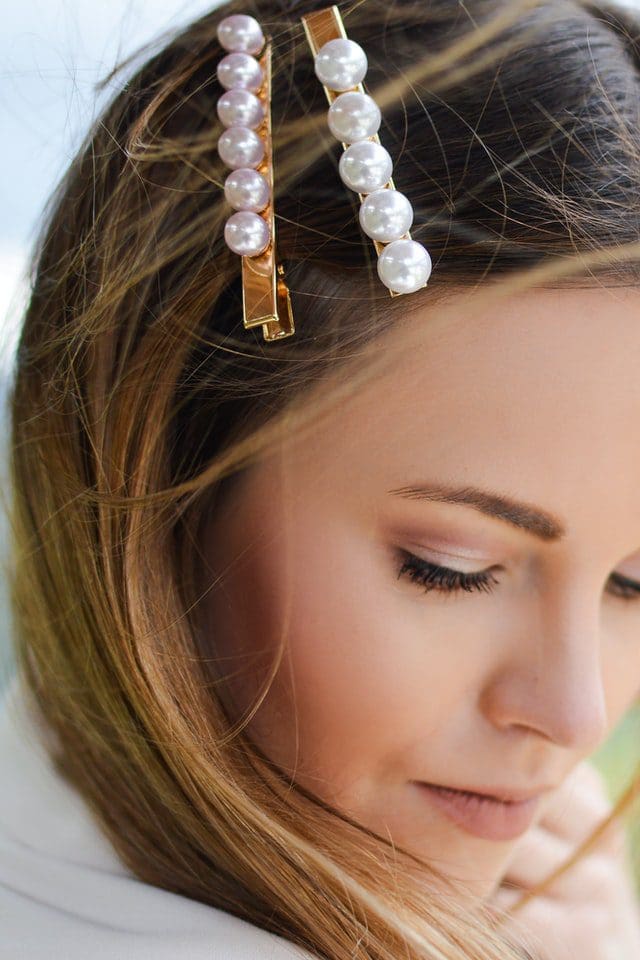 Choose your shoes carefully and with class
Many brides overlook their shoe choice because, in most cases, their gown covers their feet the entirety of their wedding day. But that's not a great approach. Get yourself classy shoes that will match your whole look, even if they won't be seen as much. This way, you will feel more confident in your appearance and won't have to feel anxious if your feet will show or not.
Be careful when choosing your shoes for your big day, as not everything is just aesthetics. You're going to be spending your whole day in those shoes, and you don't want them to be uncomfortable. Opt for classy and comfy shoes that look timeless and, most importantly, feel good. Keep in mind that some shoes need to be stretched out after buying, so it would be best to wear them around the house for an hour a day to make sure that they will provide maximum comfort on your wedding day. 
Don't go overboard with your shoe choice, as shiny and glittery shoes probably will not look as classic. Go for simple traditional stilettos or plain semi-platform heels that will embrace your figure and feel cozy. 
Final thoughts
Choosing a wedding gown is a once-in-a-lifetime experience for most brides. The mood of your wedding day is created by your gown, which reflects your personality and taste. But don't forget that the entirety of your look needs to be balanced and elegant. Don't get too caught up while choosing what to wear, as this can cause stress. The most important thing is to feel good in what you wear and enjoy the best day of your life.
Featured Photo by Marius Muresan on Unsplash