These whimsical real candy cane ornaments are so much fun to make!
They don't have to be ornaments, though. You could also make monograms and tie them to gifts or leave off the string and simply give them as Christmas treats to eat.
The candy canes will be pretty warm when they come out of the oven, so this is really a project for older kids or adults, but it's not difficult at all, and you could easily put together a whole collection in under an hour.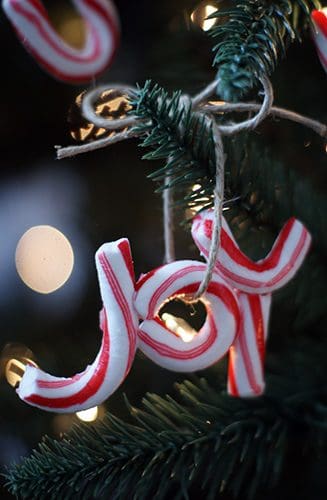 Supplies:
candy canes, unwrapped
parchment paper
cookie sheet or stone
knife
twine or ribbon
Directions:
Preheat oven to 200 degrees F and line cookie sheet with parchment paper.
Lay out a few candy canes on the parchment paper. Depending on your designs, you may want to go ahead and break the candy canes into the lengths you'll need, or you can cut them once they come out of the oven.
Heat for 10 minutes and test for pliability. You want to be able to bend them and stick them together, but you don't want them melted in a pool of sugar! If they're not quite ready, continue heating for 1-2 minutes at a time until they are.
Shape the ornaments, squeezing the pieces together firmly but gently where you want to attach them. Be careful not to press down too much as you shape them because that will flatten them and make them stick more to the parchment.
Let cool for 5 minutes, peel off the parchment, and then tie ribbon or twine to use as a hanger for each Candy Cane Ornaments.
Related Projects:
Join us as we celebrate 101 Days of Christmas with new DIY projects, gift ideas, traditions and more every day from now through Christmas!