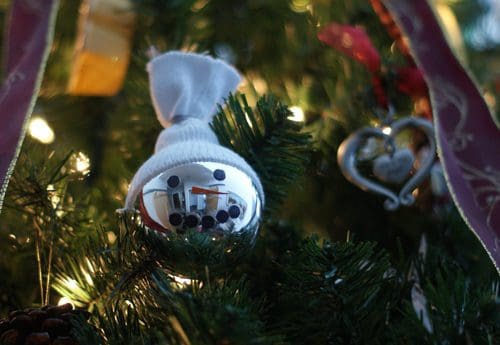 My daughter's art teacher (Rita Hester of Tree House Studios, for those of you that are local!) made ornaments similar to these with the girls, and I thought they turned out so cute!
The snowman ornament is simple, easy, AND adorable, making them a winner, whether adding them to your own tree or giving them as gifts.
Unfortunately, making it was a lot easier than taking a picture of it (ha!). The Christmas ball I used was so reflective that I had to work really hard not to be in the picture. In the end, I'm glad our Christmas tree is up so I could hang it up high and take the picture from a lower angle.
Supplies: 
silver or white ornaments
black and orange construction paper
old children's tube socks
ribbon
glue
Directions:
Cut the tube off your tube socks and glue one end around the top part of your ornament. This is your snowman's hat! Tie a ribbon tightly around the top to hold it closed and hang the ornament from it.
Use a hole punch to punch 7 black holes for the snowman's eyes and mouth.
Cut a long thin triangle from the orange paper for his carrot nose.
Use white glue to attach the eyes and the nose (I only glued the base of my nose down to make it a little more three-dimensional).
Let dry and hang!
Check out this felt snowman DIY.
Join us as we celebrate 101 Days of Christmas with new DIY projects, gift ideas, traditions and more every day from now through Christmas!